Washington State BMX Finals…WHAT A WEEKEND!
Although we knew that this weekend was approaching for a long time, no one could prepare us for the chaos that led up to it! I am glad the weekend itself went well, and that we are almost done with 'BMX season'.
The week/days prior to State Finals:
The kittens we are 'fostering' are growing and GROWING; they are finally eating solids and are close to going to their 'forever' homes…THANK GOODNESS! We struggled to find a 'kitten/house sitter' this past weekend (during finals), so we left a ton of food and water – and hoped for the best! Of course, they are still alive & well…and the girls' are loving them more than ever.
Maybelline had hurt her back on the trampoline at Papa Wheelie's the Sunday before; so along with x-rays and a 5 week treatment plan came a $150 bill, plus several more to come. Choosing to race over the weekend was kinda 'sketchy' – but she did great and seems to be recovering okay…we are sure hoping for the best.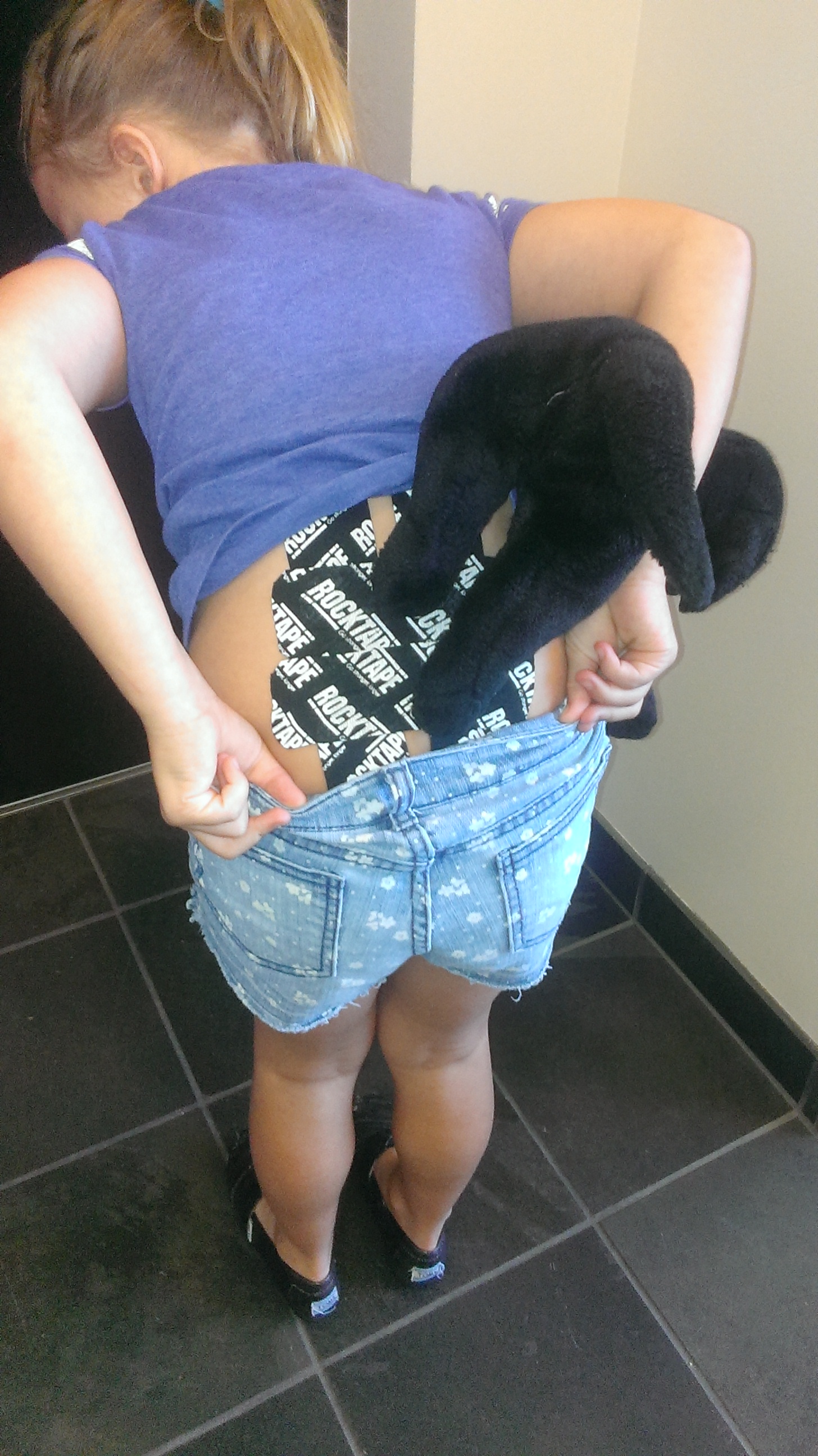 We were responsible for feeding/watering the great-grand parents' dogs while they were on a fishing trip. We had to corral a neighbor last-minute to feed them during finals…and they are NOT dog people (SORRY, THANK YOU, and WE LOVE YOU LINKUS FAMILY)…
Penelope had needed to get her immunizations updated and enrolled in kindergarten (YES, I AM THAT PARENT THAT WAITS UNTIL 2 WEEKS BEFORE SCHOOL TO ENROLL MY CHILD, YIKES!). She received her immunizations on Monday prior to the State Finals wknd. We are STILL working on getting her fully enrolled (lost her darn birth certificate)…
Parking/Camping for the weekend: It wasn't until a few weeks prior to State Finals that I found out that it was a 3 day event. By the time I had contacted the track for camping, they were already full. The TO (track operator) had put us on a wait list, and suggested a place or two that we could check out. And then when I called the surrounding RV resorts/comp grounds, every single place was full. The week of, my 'favorite auntie' Patch (thank you Auntie!) was able to secure us a place about 20 miles from the track – we were set to roll! But then…the TO pulled a miracle…and got us in at a farm just 2 driveways down from the racetrack – TRUE PARADISE!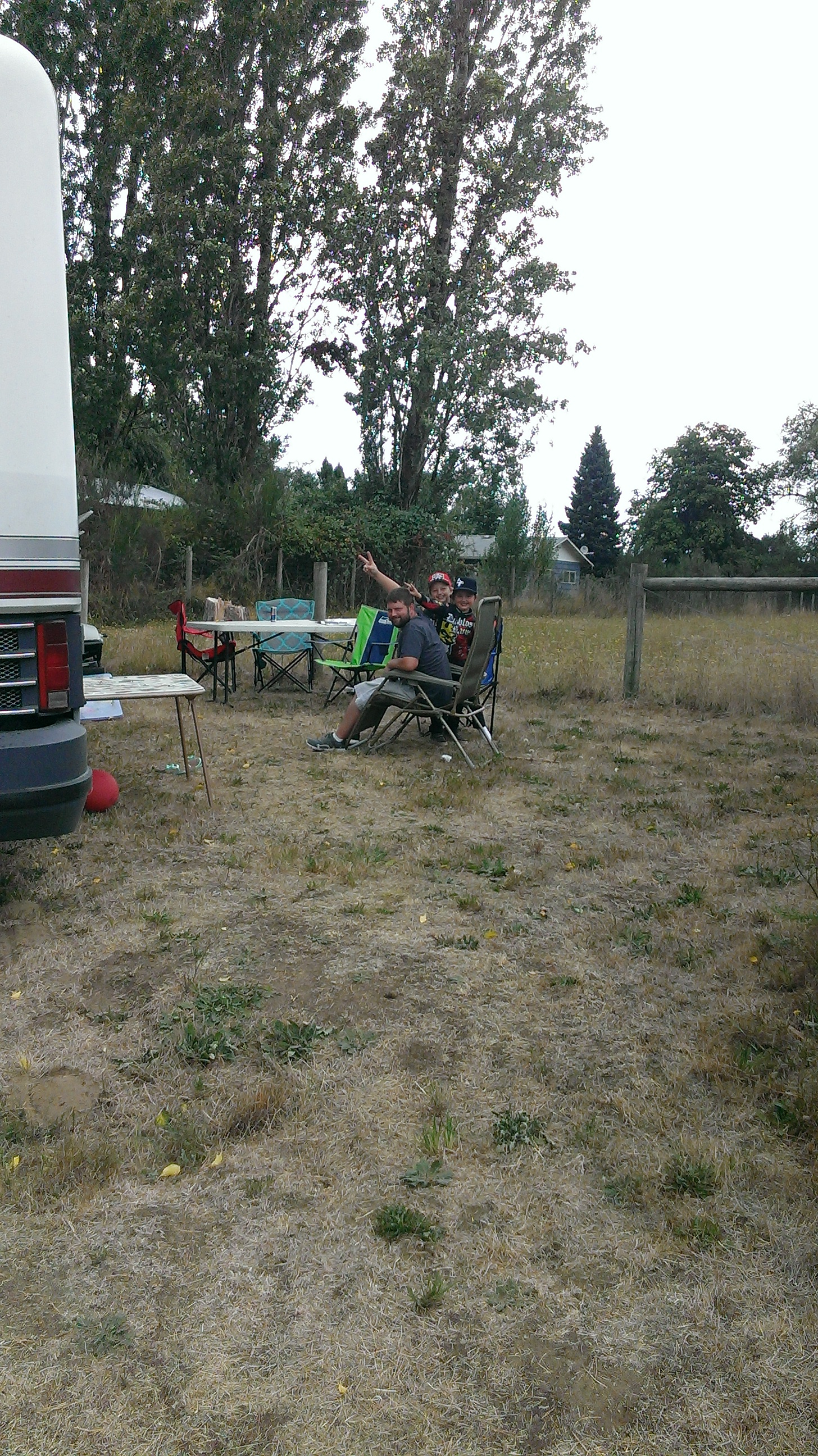 Painter Dan: As you may or may not know, my husband Dan is a painter and has worked for and had ownership in his family's painting company for several years now. Summer is THE painting season, and he has been as busy as ever. The week of finals, he had worked Monday, Tuesday, and Wednesday from 6a-6p…getting as much done as he can. On Wednesday, I was notified that a previous client needed a rental interior done before Saturday. Knowing that we were leaving Friday morning for State Finals, Painter Dan got to work full force. He came home from work about 6pm on Wednesday for dinner, and left shortly following (stopping to do a bid in Everett on his way to Stanwood area). He worked until about 2am on Thursday, and came home for a few hours of sleep. 5 hours later, himself and 2 employees headed north to complete the interior job. 24 hours following that (yes, 24 hours of straight work), they returned home just in time for us to leave for State Finals! This meant I had to load and prep the 'bus' myself (first time ever); along with getting the household and kiddos prepared for 3 days away from home (not such a success, but I did alright). Poppa Wheelie drove the 'bus' over to the Peninsula while Painter Dan got a few hours of sleep, and I drove the truck over (so we would have extra wheels to go to/from the track, if needed).
And then, it was the weekend! As I mentioned above, we left for State Finals about noon-ish on Friday; Poppa Wheelie driving the 'bus' (with Penelope and Dan) and me driving our truck (with Maybelline). We had the option of taking the ferry or the Tacoma Narrows Bridge over to the Peninsula. With the 'bus' and the truck, the Ferry would have cost $170+ and who knows what wait times would have been on a Friday afternoon (typically 60+ minutes). We decided to head South thorough Tacoma, over the bridge, and up the Peninsula to Port Orchard! What should have been a 1 ½ hrs trip (normal traffic) was actually a 4 hour trip; we arrived at the track about 4pm.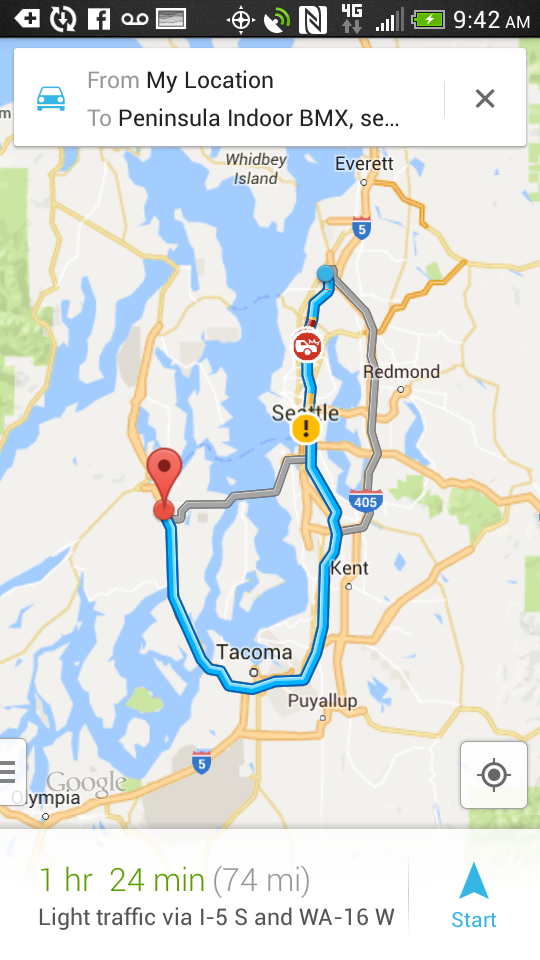 Friday night was single point racing. Racing was to begin at 7:30, but didn't start until closer to 8pm (which is usually their bed time). For both girls', it was 'total points' racing (which means that they race all 3 motos and their finish/points for each moto are all added up to determine their total/final points). Both girls' rode hard in all their races – both taking 3rd for the night! We didn't end up getting to bed until close to midnight.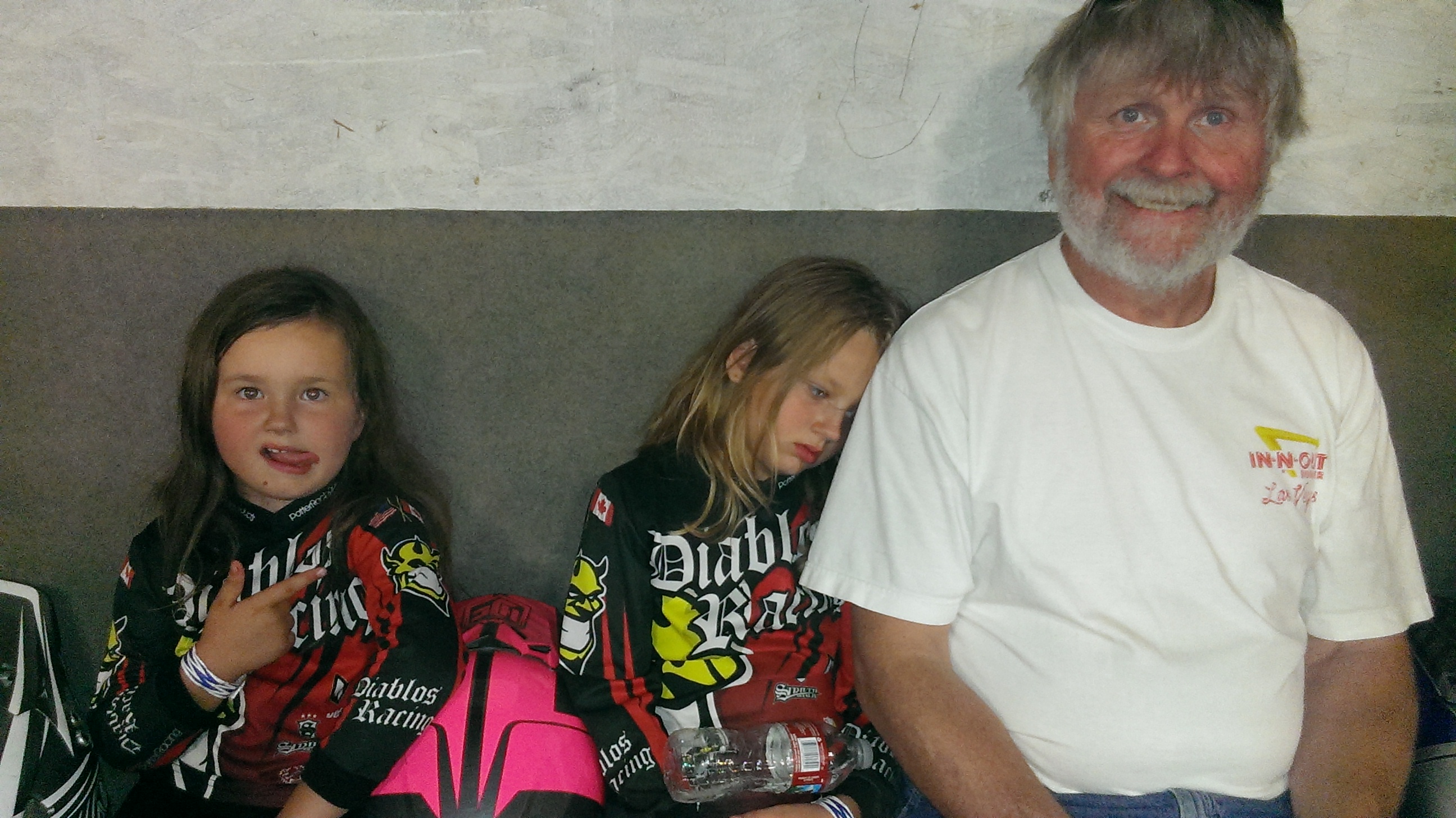 Saturday's racing didn't roll around until 4pm. We slept in, and had a great breakfast/lunch back at camp; then headed in for some practice. Gates were packed, and both girls' had to qualify for their mains. Nelly swooped up a 4th place win for the day, and May took 5th!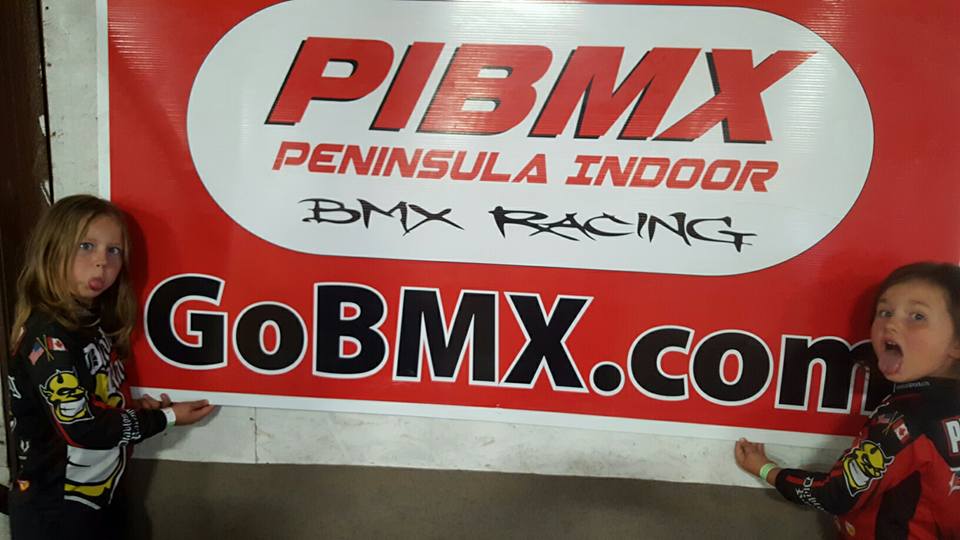 Sunday was the State Finals! This normally wouldn't sound like a 'big deal' to most people – but with over 2,000+ miles on the odometer and $6k+ from the pocket book this 'BMX race season', the girls were 'in it to win it'  at this point. Maybelline was holding the #10 spot in the State for 8 year olds, and Penelope was also holding #10 spot in the State for 5 year olds. USA BMX awards 'State Plates' (the privilege of running  a green Washington State number plate with your qualifying number on it for one year) to the top 10 qualifying kids of each age. The girls' were barely making the cut (currently standing at 10th both, and the final race determining their final spot) – so the State Finals were truly a 'make it or break it' type of moment.
Registration and practice started at 10am, and racing began shortly after noon. Most of our Diablos Team-mates made it out, YAY! Both girls' were pumped and ready to race…improving as each practice lap went by. Both had full gates and were split into 2 motos and had to qualify for their mains (1st and 2nd place from each moto would advance to the main). Somehow, Penelope managed to shoot out of the gate in 1st place, and maintain it for the whole race! She placed first and was automatically was moving onto the main (so she didn't have to race her 2nd moto). Maybelline struggled out of the gate, and held 4th/5th the entire race…and needed to try again (in her 2nd moto) to qualify for the main. Her 2nd moto, she took 2nd…advancing her to the main.
By the time mains rolled around, the indoor area was PACKED and everyone was 'on edge'. Their 'motos' were only 3 races apart, so it seemed to fly by so fast! Nelly loaded onto the gate, launched out fairly quickly, and finshed 4th place. Maybelline also got a good start, but fell behind the pack going into the first corner. She also finished 4th! Thank goodness both final motos went well, but we still had NO IDEA where/if they finished in State Finals 'top 10' as far as points were concerned.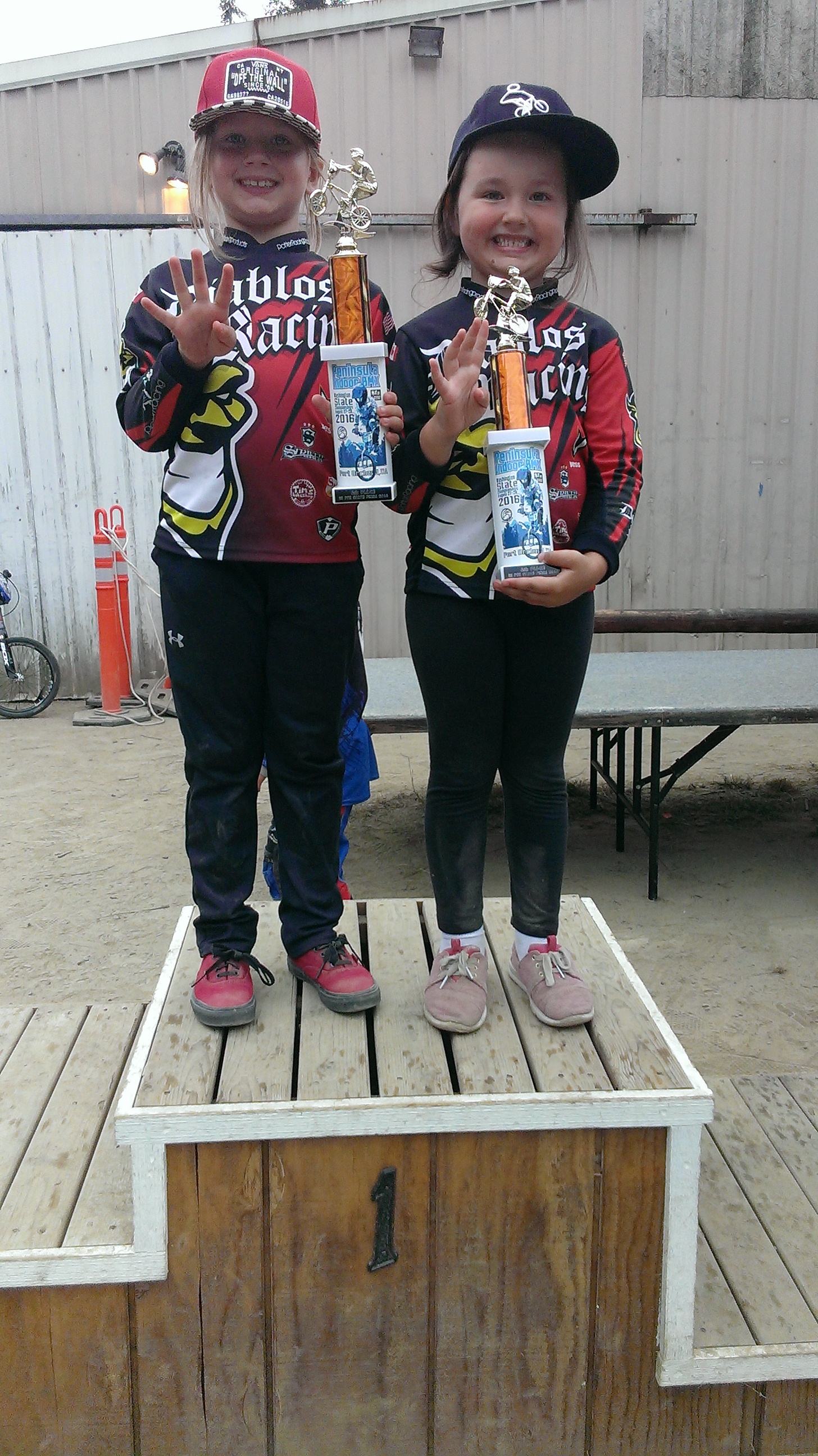 We waited around for another 2+ hours for the 'State Finals Award Ceremony'. We pulled up some chairs early on, but were quickly over came by crowds of people. When the 5N class was finally announced, Nelly was SHOCKED to hear her name (she was half asleep on my lap) – she finished 9th in the State for 5 year old kids – WOW! Shortly following, they announced the 8N class – and Maybelline was awarded 10th in the State for 8 year old kids! PRETTY AMAZING FEELING AS A PARENT – SOOOO PROUD OF MY GIRLS!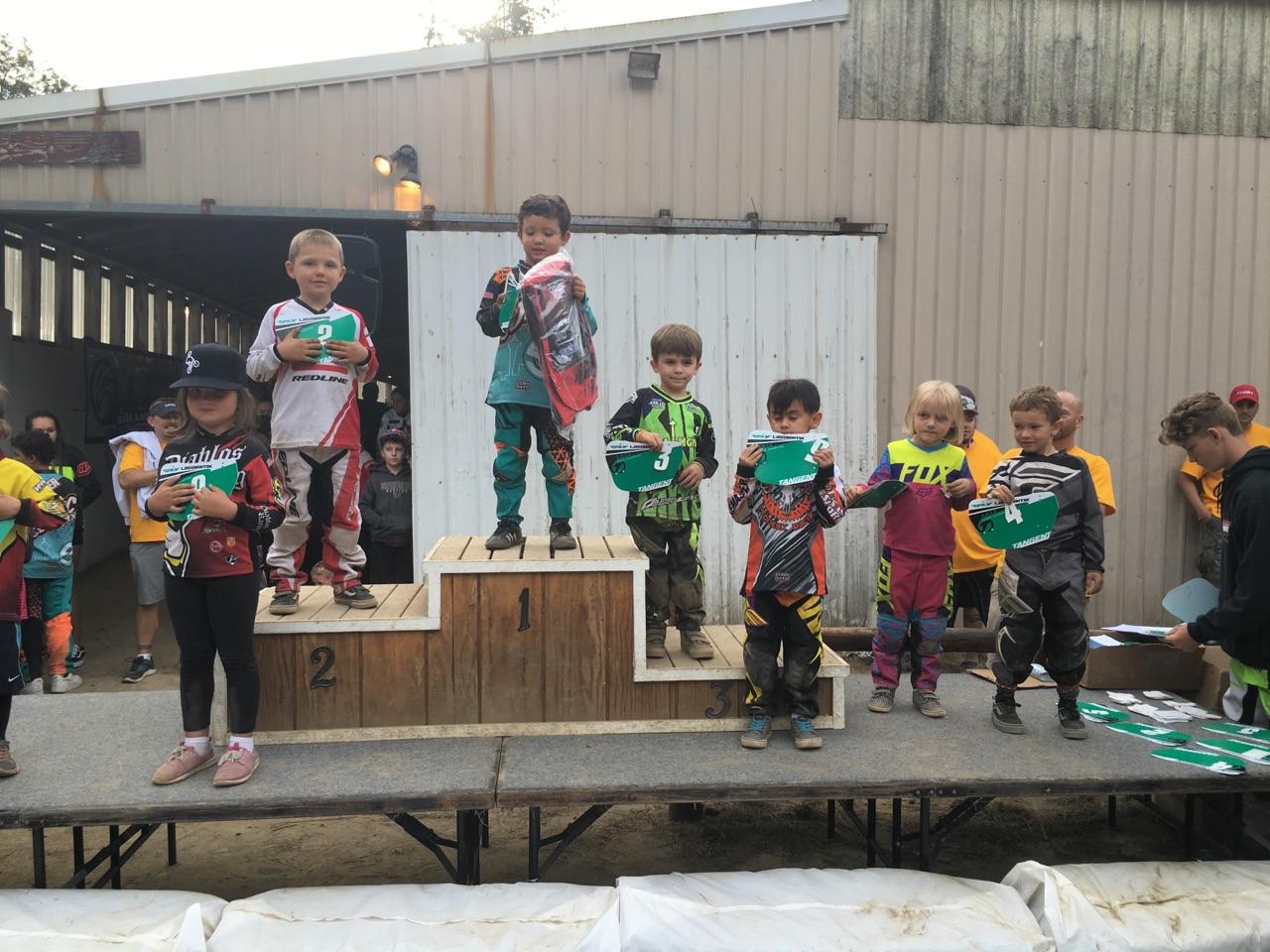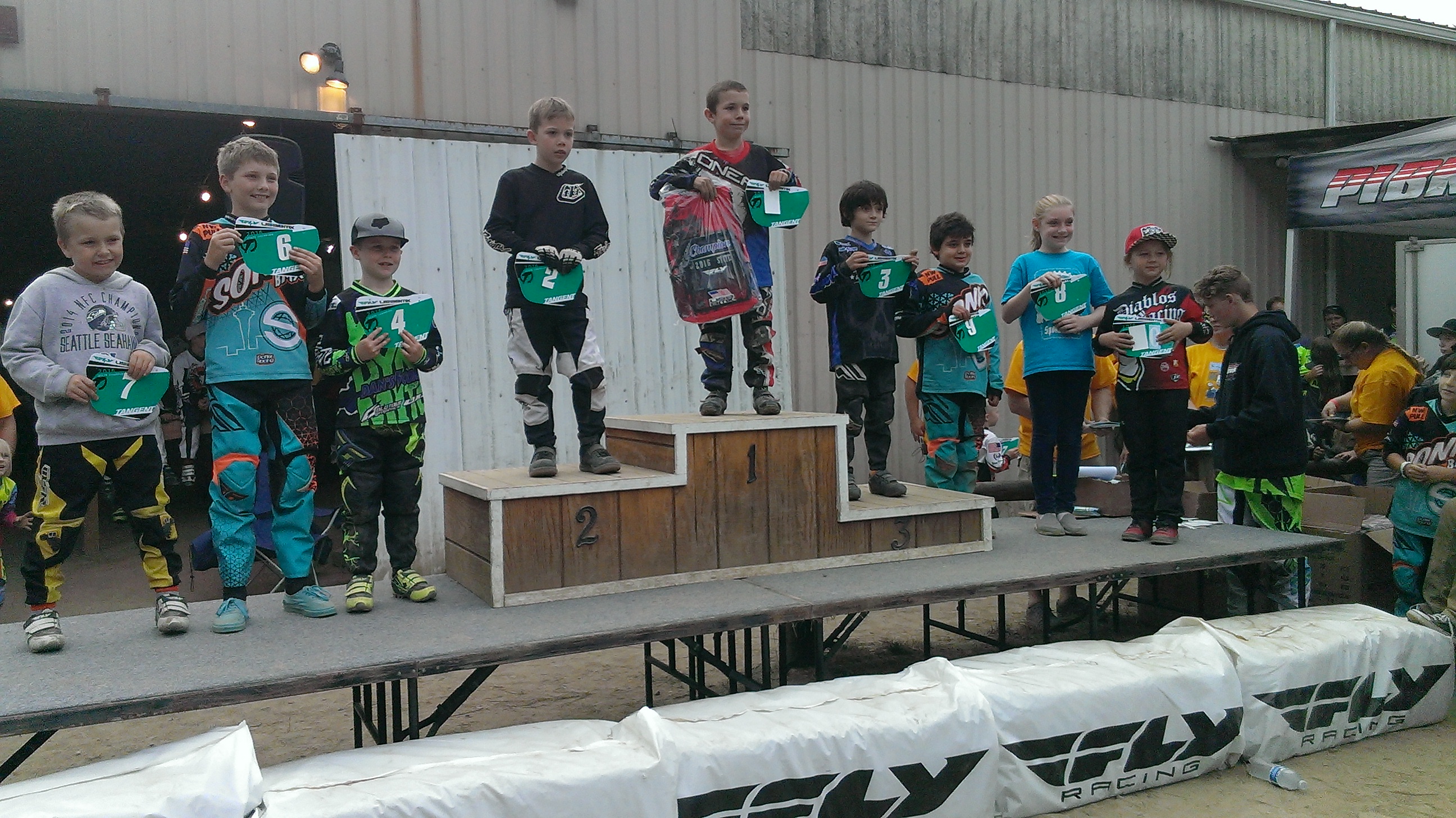 After the awards, we headed back to the motorhome and cooked a quick dinner. We were on the road by 6pm, and home by 8pm (thankfully, traffic wasn't bad at all). Wowha, glad that weekend is finally over!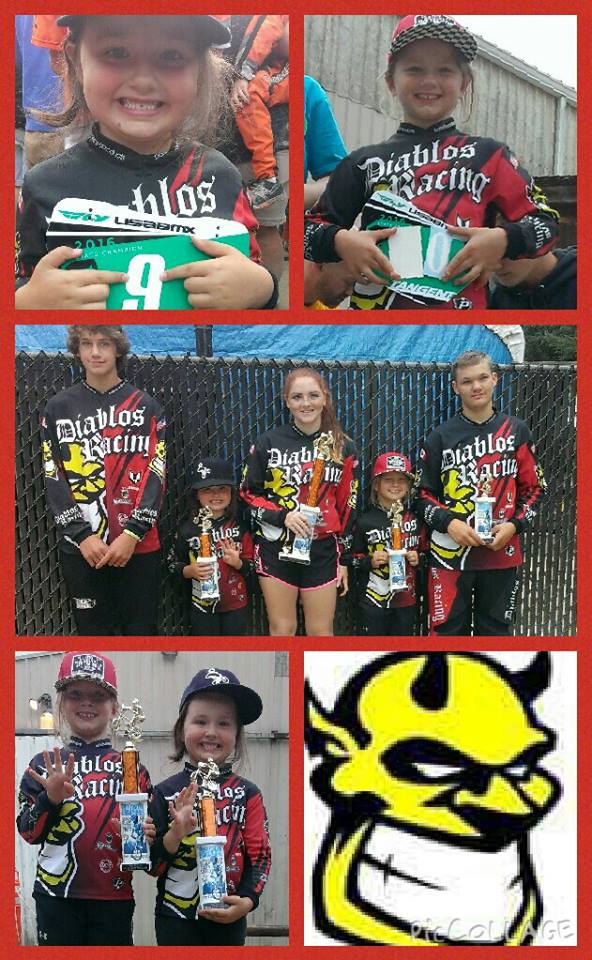 Now, we are preparing for school (supplies, clothes, paperwork, etc. + me returning back to work) which starts one week from tomorrow. We have one last trip/vacation on the calendar before school starts to go see Auntie Chandra and Uncle Johnny in Nampa, Idaho. Although we are not exactly ready for another road trip, we sure are excited to spend some family time with those who mean the most! Here…we…go…