As we set off for the BMX LumberJack Nationals at River Valley tomorrow, I double, then triple, and sometimes quadruple check my lists.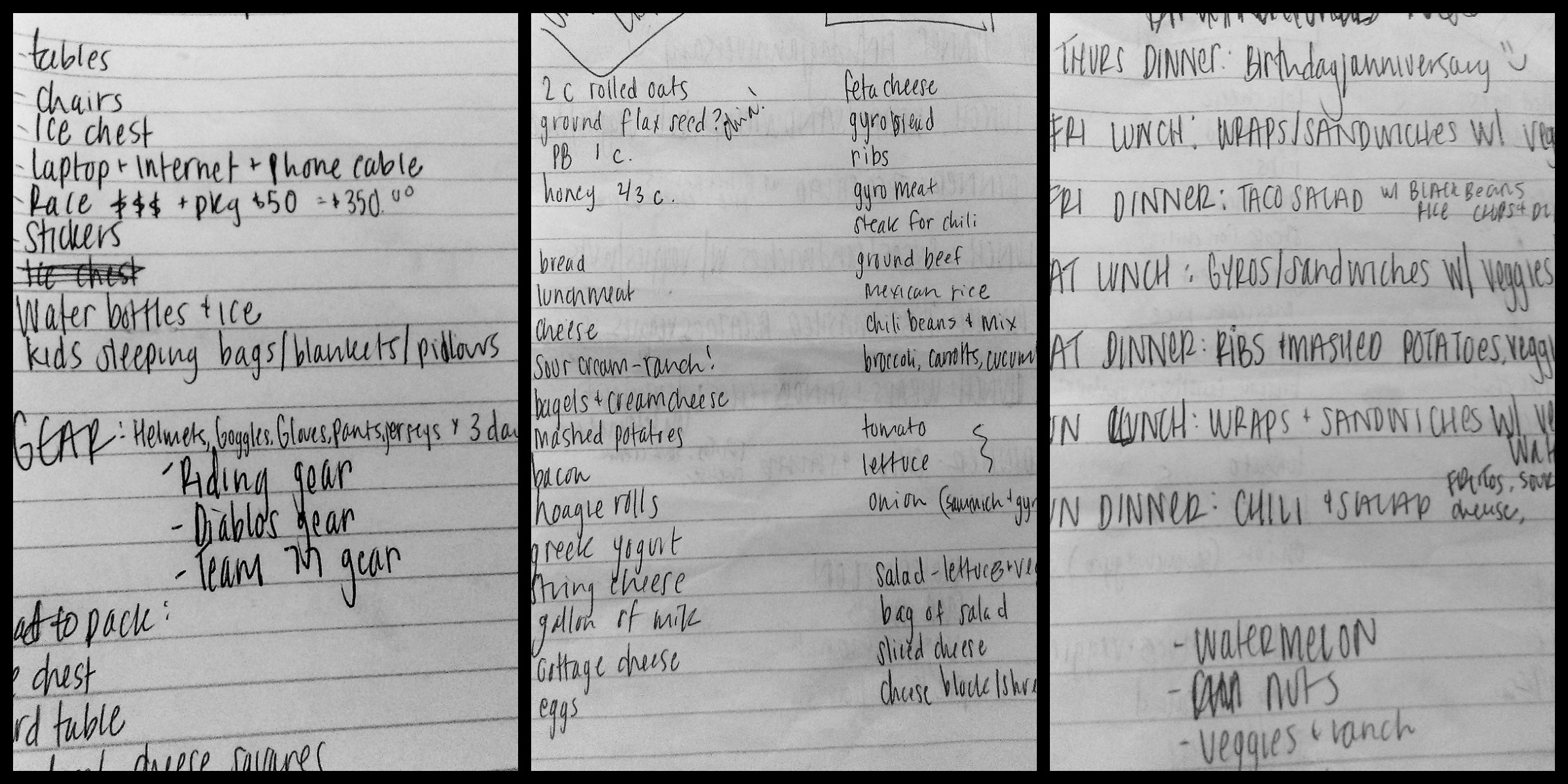 Why all the lists? It's all just too much to sort out in a short amount of time…without the lists. My husband has been working double time to make up for the last vacation (to Silverwood) and this upcoming race/holiday weekend (consisting of 5 days); so getting him on the 'same page' is important. The lists give both of us a clear picture of what needs to be packed, prepared, and done by the time we sail out of our driveway. I primarily do all the grocery shopping, food prep, and packing for all four of us (plus Ollie, the family cat who travels with us). Dan takes care of making sure the motorhome (or cars) are ready, the bikes are all prepped & packed, and anything I need loaded makes it on-board. It's just what works for us.
This trip has been especially challenging, as we just got done with Maybelline's 8th birthday party; and we leave on her actual birthday and our anniversary. Putting all the stuff away, cleaning party trays and bowls, and all the other non-sense from her party was a 2 day task itself. The dust had finally settled.
Today was my 'PREP DAY'.
One thing that is SUPER important to me and my family is FOOD! (The kids' annoyingly mock me constantly for saying this…) but, FOOD = FUEL. In the life of 'extreme sports', it is even more considerably important that that the foods we are consuming are best for the body. It's easy to 'fly by the minute' and get fast food/pre-prepped food on the go, but it's obviously not the fuel your body needs/wants to participate in this level of activity. Especially when racing/riding, I find it necessary to prepare a full menu ahead of time and do my best to make sure we all have the proper fuel we need throughout the trip so we don't find ourselves resorting to unhealthy options. This trip in particular, I've prepped everything including: steak chili, buffalo chicken wraps, garlic&herb turkey wraps, beef gyros, beef short ribs, mashed potatoes, 4 salads, sliced veggies & homemade ranch, chunked watermelon, trail mix, sandwich/salad fixings, and other goodies on the side. We shall eat well for the next 5 days…
Then, my other chore: packing the gear, clothes, shoes, and whatever else essentials are needed for this family 4 of plus our cat. Between the motorhome, 4+ bedrooms, a 'clothes room/closet', and the giant laundry pile – I must figure out how to accumulate 5 days' worth of 'racing clothes', plus casual clothes (and you know Washington, plan for BOTH sun and rain), sleepwear, and undergarments for both the girls'. The husband and I always seem to figure out our packing pretty quickly, thankfully. Overall, 'the packing' amounts to being a half day chore. And, it's done – YAY!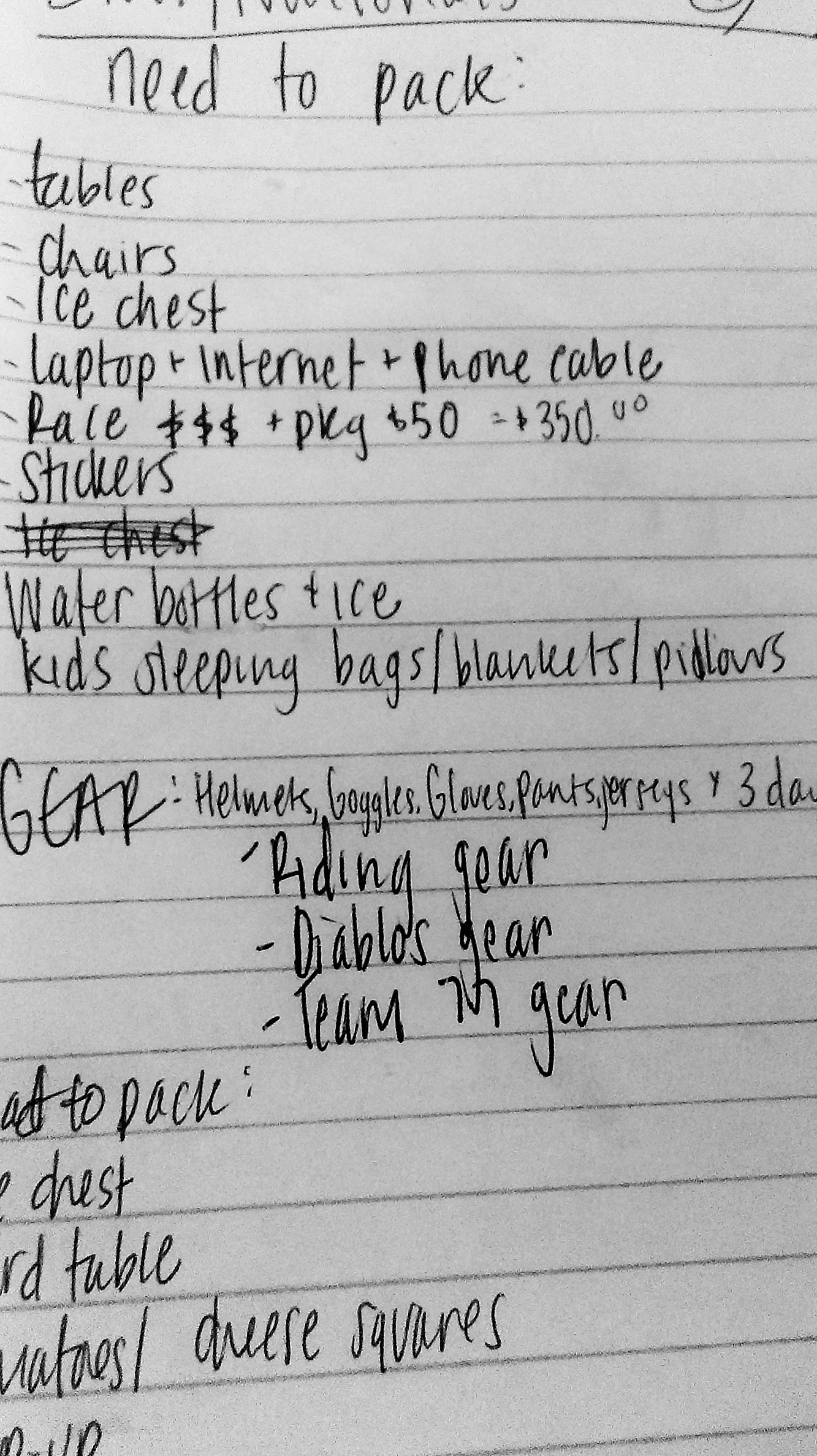 Tomorrow, leaving… only 12 hours from now? Ugh! I am much need of some rest. LUMBERJACK NATIONALS…HERE WE COME…
#MotoMom