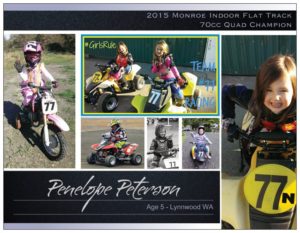 Penelope 'Princess' Peterson was born in 2010.
Coming from a strong blood line of quad and dirt bike racers; she started in 'extreme sports' at a very early age.
In 2013, Penelope started learning to rider her first quad (Suzuki LT50). She spent nearly two full summers out at Lake Connor Park, cruising around the gravel roads on her quad (and her 3-wheeler at times).
After a race season of standing by on her sisters pit crew – she was ready to jump on the track by the fall of 2014. Her first race ever, she finished 5th (also known as last). Although she didn't finish on top – she was instantly hooked! It took her 3 more races before she truly 'found the throttle'. The rest of the season was all 1st place finishes from then on! For the 2014-2015 race season, Penelope took 1st place overall in the 70cc beginners quad class for the series.
In the Spring of 2015, Penelope's family and friends attended the Dirty Poker Run in Mattawa for the first time (a 30-mile long course full of whoops, dirt, sand, mud holes and many other challenges). She only made it a few miles on the course on her quad, but at the age of 4, it was a huge accomplishment to even attempt it.
In the Summer of 2015, Penelope attended her first BMX race at McCollum Park in Lynnwood, WA. She started out on a strider, and quickly moved up to a 16in 'Pit Boss'. She only got a handful of practices/races in at our local track, prior to it closing for the season.
In the fall of 2015, Penelope returned to the Last Chance Poker Run in Mattawa, WA. Over the 2 day event, she was able to complete the 30+ mile course on her quad.
By later fall, Peneople was ready to give her dirt bike a try. 'Poppa Wheelie' custom fabricated some training wheels for her pink & purple PW50 – and in early August, she set off onto his track in the back yard. What started as a 5 minute trail turned into an entire day (and a tank of gas) of 'practicing' on 'two wheels'. She was in LOVE! Less than a month later, she asked her dad if she could race her dirt bike for the upcoming flat track series. Of course, he said yes – BUT, she had to get rid of the training wheels. She slept on this idea for just a few nights before deciding she was ready. A few bolts later, she was back on the track for a day of practicing on two wheels FOR REAL! The rest was history…
Penelope was back at the NW Flat Track Series for the 2015-2016 season; racing both her quad (Suzuki LT80) and her dirt bike (PW50). She was BY FAR the youngest kid in her quad class (and also racing against her older sister) – and the dirt bike class was compromised of a bunch of little girls all racing their little 50's (sooooo cute)! Again, it took half the season for Penelope to find her throttle, but when she did, she had some pretty great wins (and stories to tell about them). She also had a few minor crashes this year (often disappearing off the end of a banked berm, haha). She finished 4th overall in the 50cc beginners dirt bike class, and 4th overall in the 90cc beginners quad class for the series.
January of 2015, Penelope raced on her quad for the first time for Xtreme Ice Racing at Xfinity Arena in Everett, WA – and took 5th overall.
In the Spring of 2016, Penelope once again attended the Dirty Poker Run in Mattawa, WA. This time, she completed the 30+ mile course in one day on her Suzuki LT80. She won the award for the youngest rider to complete the course!
As late-Spring approached in 2016, Penelope was ready to hop on a bicycle and hit the BMX tracks. She is racing the State series, as well as actively hitting other local tracks when possible. In late May of 2016, she was asked to join the Diablos Race Team – and of course accepted.
Penlope plans to continue in her passion of BMX racing; and will be returning to the NW Flat Track Series in Monroe, WA for the 2016-2017 season. She has also been dabbling in some moto-cross here and there, but with full schedules, we are not sure where that may go at this point.
PAST RESULTS:
2015 NW Indoor Flat Track Series – 70cc Quad Champion
2016 NW Indoor Flat Track Series – 90cc Quad, 4th Place
2016 NW Indoor Flat Track Series – 50cc Dirt Bike, 4th Place
2016 Xtreme International Ice Racing @ Evt – Pro Youth Quad, 5th Place
2016 USA BMX Washington State Finals – 5N Class, 9th Place