Ahhhh, the long awaited 'SUMMER TIME'! Why do I love summer so much? Beause I am off work + kids are out of school = MOTO TIME! Oh yea, and MOST importantly, CHORE CHARTS are back (insert happy dance)…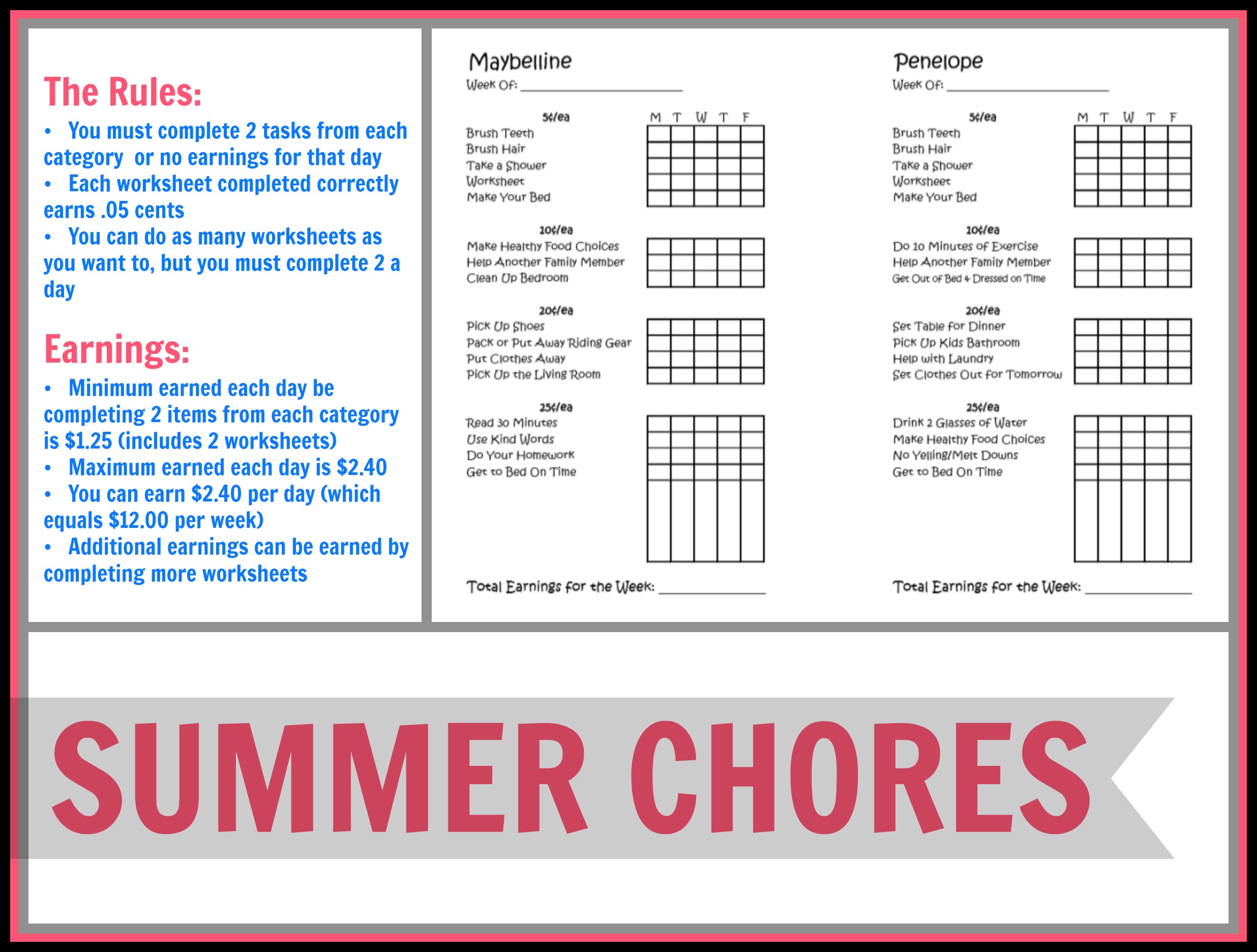 During the school year, I find myself rather 'lax' when it comes to chores. But when summer approaches, I find it the most useful tool to keep the organized chaos under control. We are often shuffling between home, race tracks, the motorhome, and wherever adventures take us; so having each of the girls assigned to a certain amount of responsibility and keeping up on studying/school-work takes some of the stress of of me. Maybelline is usually in charge of packing riding gear, or putting it away. Penelope loves to help with laundry: doing the dirty, or putting away the clean. Both of them are required to read for 30 minutes a day, and complete at least 2 worksheets. And, of course, they don't mind exchanging their labor for some extra change here and there – so why not?!
If they complete their chores, all week, in their entirety – they can earn $12 for the week (which has only happened ONCE). We require that at the end of each week, 40% of their earnings go into savings, and the other 60% is theirs to spend. This has not only helped them to further understand the costs of racing, but also allows them to control where and what they want to do next.
When Maybelline decided to start racing BMX, she took $120 from her savings (approved by dad) and purchased her very own Redline bicycle! Now that she is looking to upgrade her dirt bike, she has been working and saving for a down payment on it (and she has $180 towards it so far). Penelope is more of a 'saver'. Since she gets most of the hand-me-down bikes and such, she just likes to save her money. I am sure here soon she will want/need something new – and when she does, she will have a nice nest egg to make it happen.
Yay girls – and YAY for SUMMER TIME CHORES!
We've got a big 8TH BIRTHDAY {party} coming up this weekend…stayed tuned for updates and SURPRISES…
#MotoMom