We arrived home late last night, after 5 days over on the east side of the mountains in Spokane! Overall, it was a great trip. But as usual, it also came with a few minor hassles…
We left our home in Lynnwood about 1pm last Thursday (about 5 hours later than planned; last minute schedule change). We made sure we ate before we left (lunch date with girls' bestie, Kenzie); as the late departure meant we were on a mission and making NO stops on the way over. Spokane is roughly a 5 hour drive from our house, so leaving at 1pm would put us at the track about 6pm…and racing started at 7pm that night. Cutting it soooo close!
About an hour into our drive (headed up I90 on Snoqualmie Pass), we blew out a right rear tire – DAMNIT! Luckily we do have dual tires in the rear, so we were able to 'limp' it (30mph on the pass, YOUR WELCOME FOLKS) to the nearest Les Schwab in North Bend. As soon as we pulled in, we got IMMEDIATE assistance (BEST customer service EVER). With luck on our side, they had 2 tires in stock – and had those both changed and us back on the road within an hour! We only actually blew out one tire, but within the last month – we had also already replaced 4 of the tires due to being 'weather checked'. So leaving just one solo 'old' tire on the bus didn't make sense, so we just replaced both. Now, the Team 77 #MotoHome has ALL NEW RUBBERS all around…(Cheers! But sooooo hard on the pocket book)…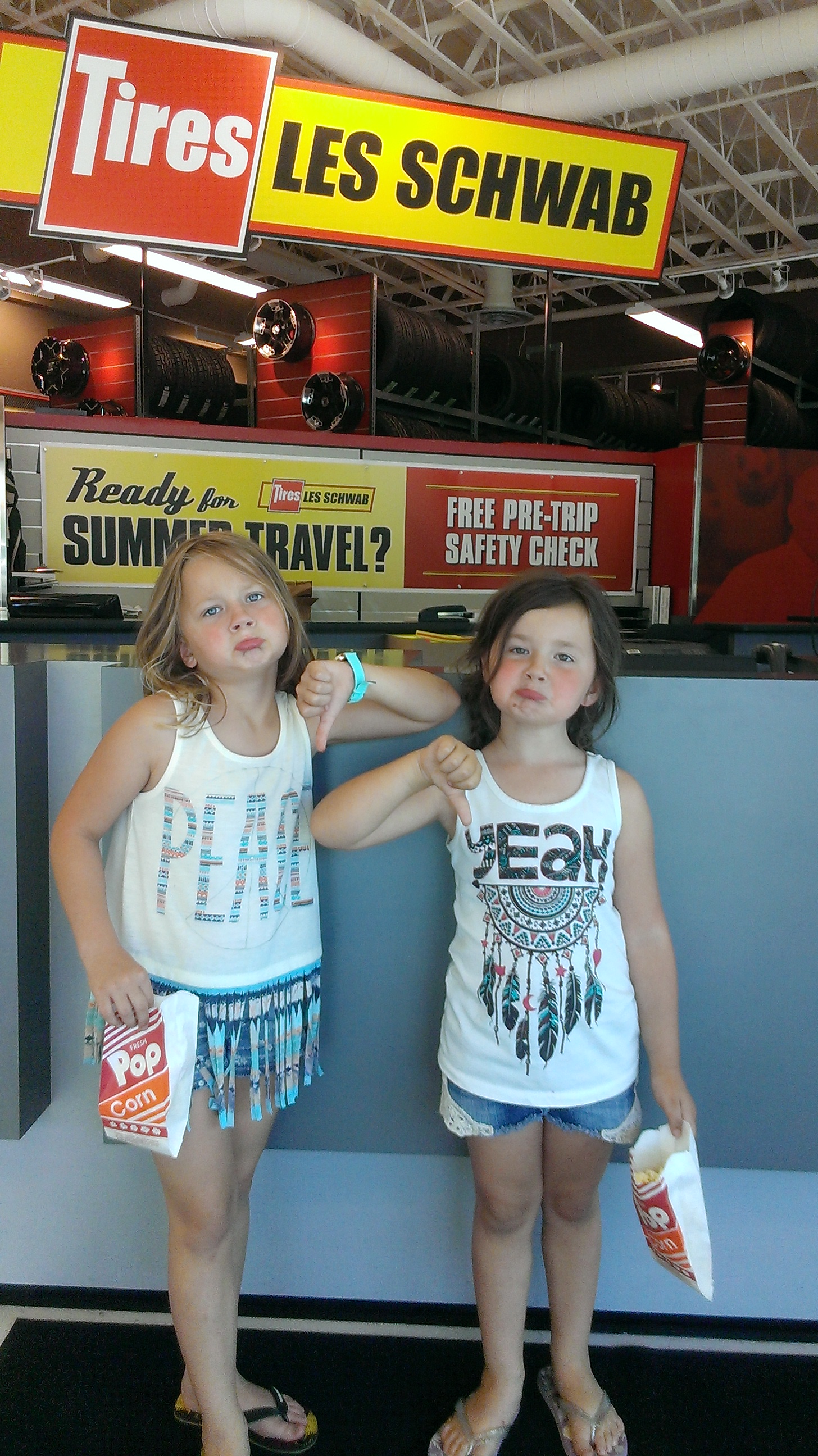 We got back on the road, another 2 hours behind schedule. At this point, we had recognized that it was very unlikely we wouldn't make it in time for racing that night. We set off, slow and steady, SPOKANE bound!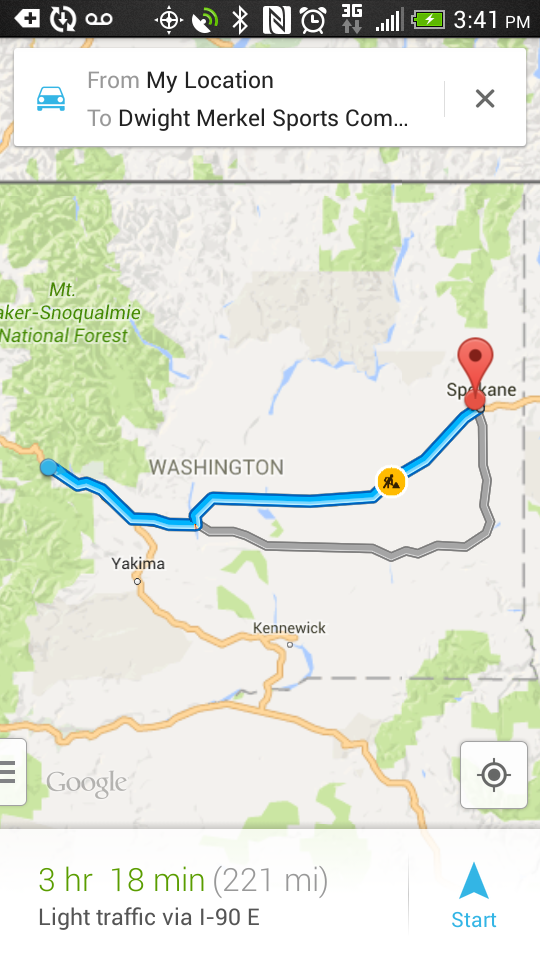 It was 7:07pm when we hit the exit to the track, off I90. The track was still another 20ish mins from there – so we were too late. We cruised through town, stopped at a local Mexican Restaurant for dinner, and arrived at the track (racing was just finishing up) by 8ish. A track volunteer immediately flagged us down, and offered to let us park ANYWHERE (and this place was HUGE and empty). Being that it was pretty dark out already, we posted up not too far from the track, but away from regular 'car' parking – and got bikes and gear unloaded immediately. They opened the track back up, and ran a few hours of practice sessions under the lights. Great way to start the trip!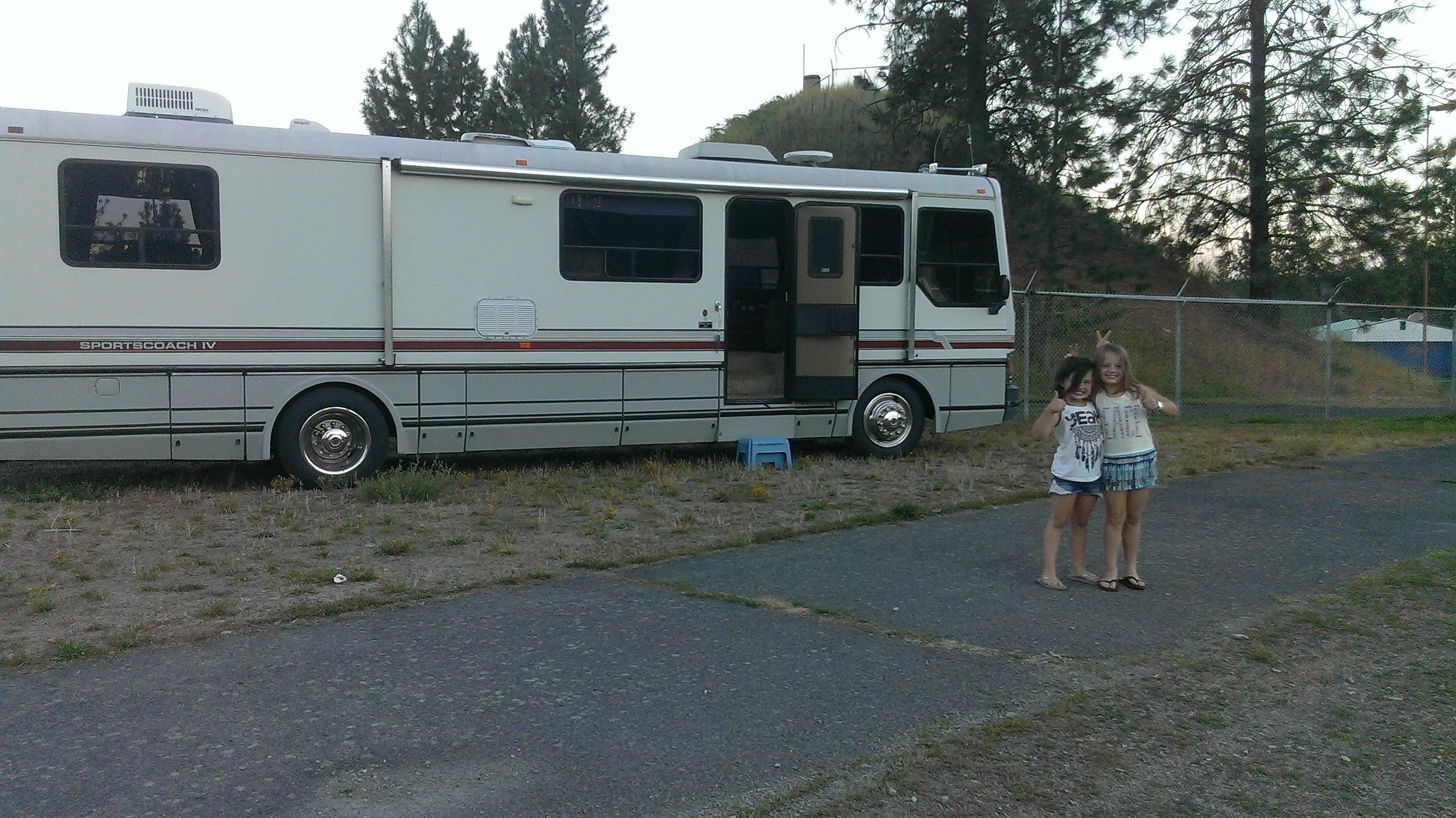 Friday was also such a great day! Racing wasn't until 6pm that day (thankfully, because it was HOT HOT HOT outside). The girls' ran a few practice sessions on the track throughout the day, we went on a hike down to the river, and spent an hour or so at the 'splash park' next door. By 6pm, the girls' were READY TO RACE (and Dan & I were exhausted from trying to keep them busy all day in the 95ish degree heat, LOL). The track operator, again, had told us to feel more than welcome to put our 'team' pop-up tent anywhere, YAY! We were able to snag a great spot on the finish line, under some shade, with a sweet picnic table.
For being a Friday night race, I was shocked at the turn out! Both girls had full gates; and they had 97 riders and 25 motos total. Fun way to spend Friday night 'racing under the lights'…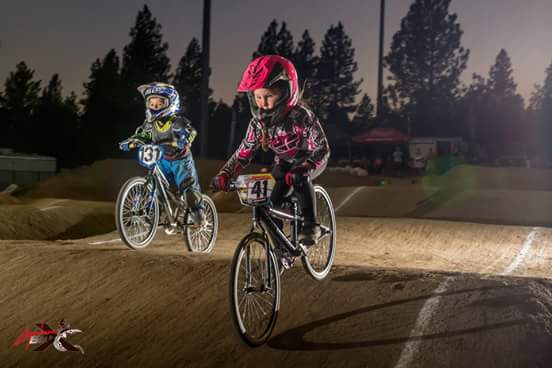 Penelope finished 3rd overall, and Maybelline finished 5th. Even better was a surprise visit from Dan's great aunt and uncle who live in Spokane. This was the first time they have ever seen the girls' race, and they REALLY enjoyed it. Was fun to chat with them =).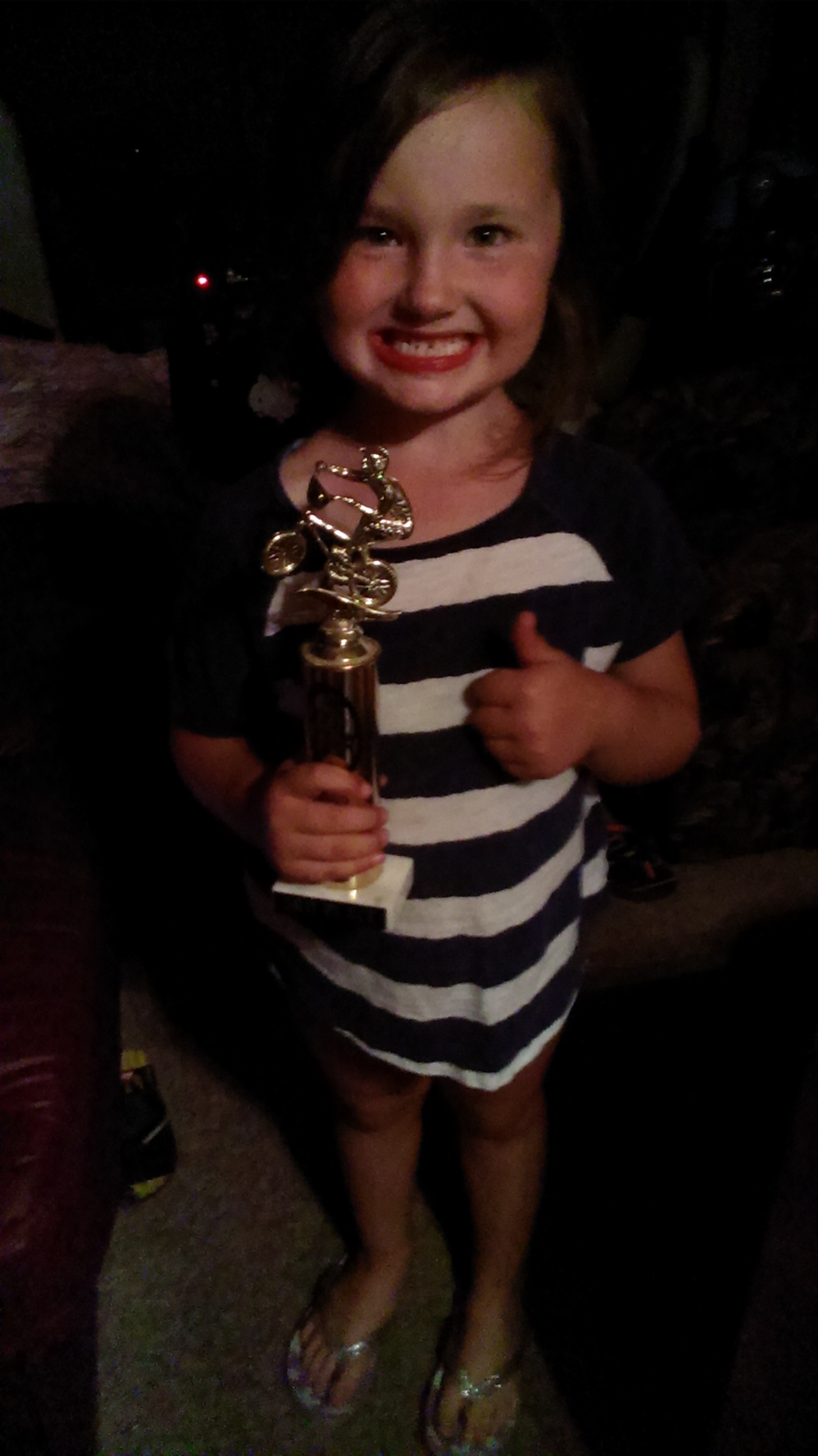 Saturday was the 'BIG' Triple Point Race that we initially came over for. Not only did the BMX track bring in 53 Motos and 229 riders; but there was also a HUGE volleyball tournament right next door that brought in THOUSANDS of people. That made for some interesting camping! We woke up to being blocked in from every angle by cars, trucks, travel trailers, and motorhomes. There were people 'tail-gating' everywhere, and music blaring from every stereo around. Luckily, by 7pm (just a few hours after racing was over), the place emptied out.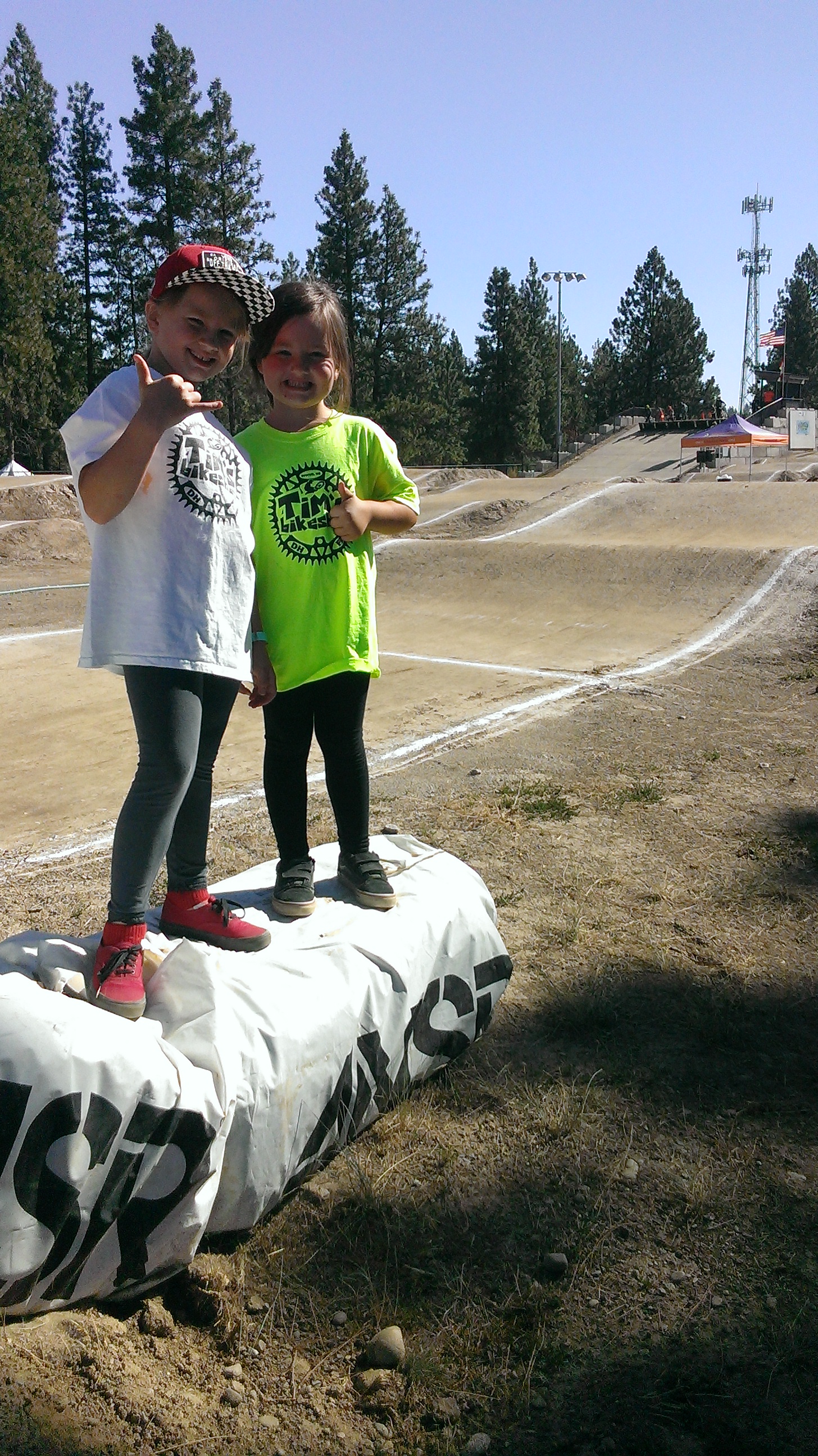 Saturday's race started at noon-ish. Both girls' had FULL classes, and had to qualify for their mains. Nelly got 3rd in here first moto, so she was automatically transferring to the main. Mayhem got 5th, so needed to try again to qualify in the 2nd moto. Sure enough, she took 3rd in the 2nd moto – and moved on to the main.
Both girls' rode so hard in their mains; peddling their butts off! May ended up taking 3rd overall, and Nelly took 4th. So proud of these girls!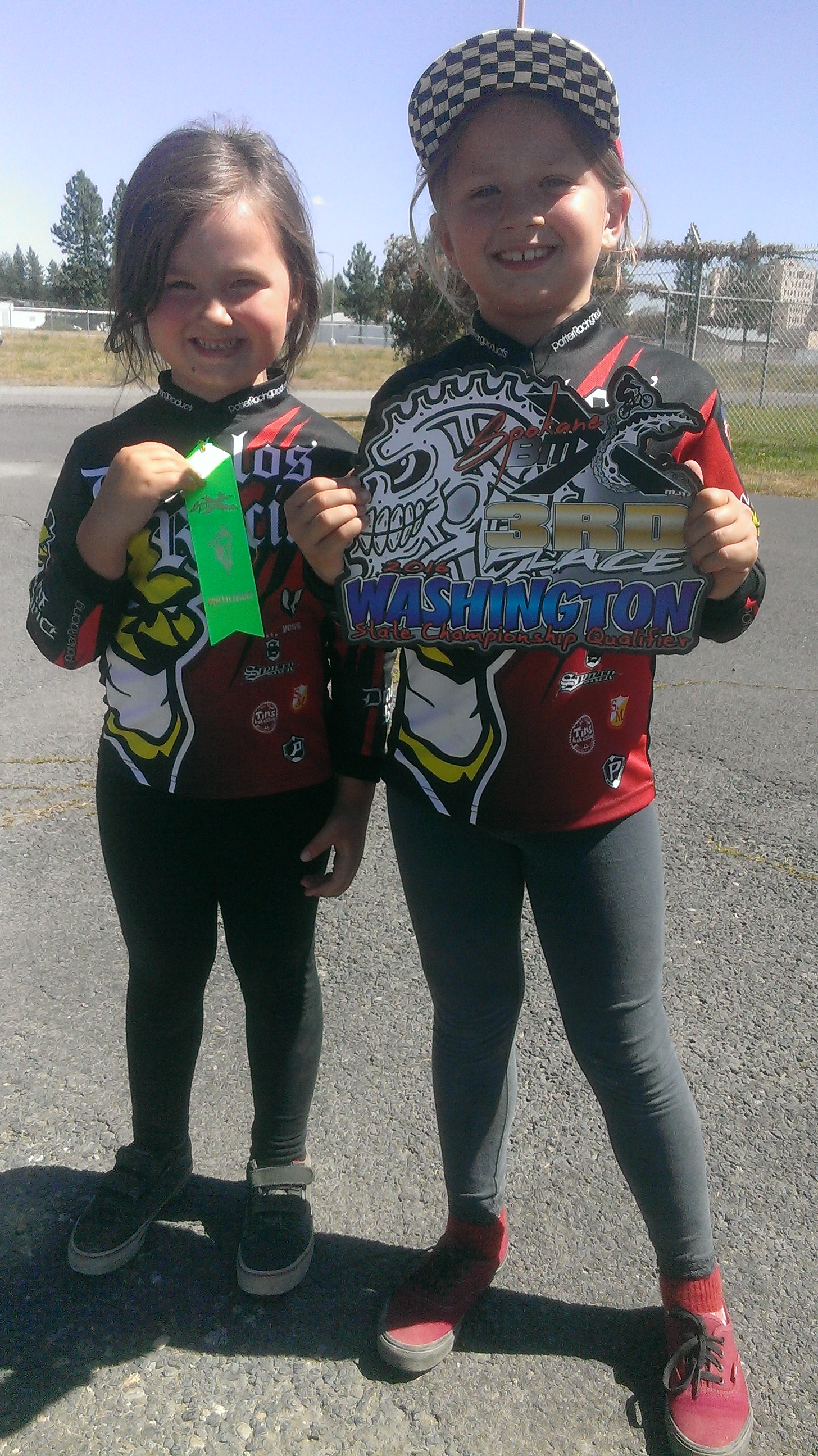 Sunday morning's race (a double point race) came around pretty quickly (10am-ish). The track brought in 26 motos and 98 riders! For both girls', it was a total point race (meaning they automatically go to the main; they don't have to qualify for it). They, once again, peddled their butts off the entire time – and Nelly took 2nd, and May 3rd.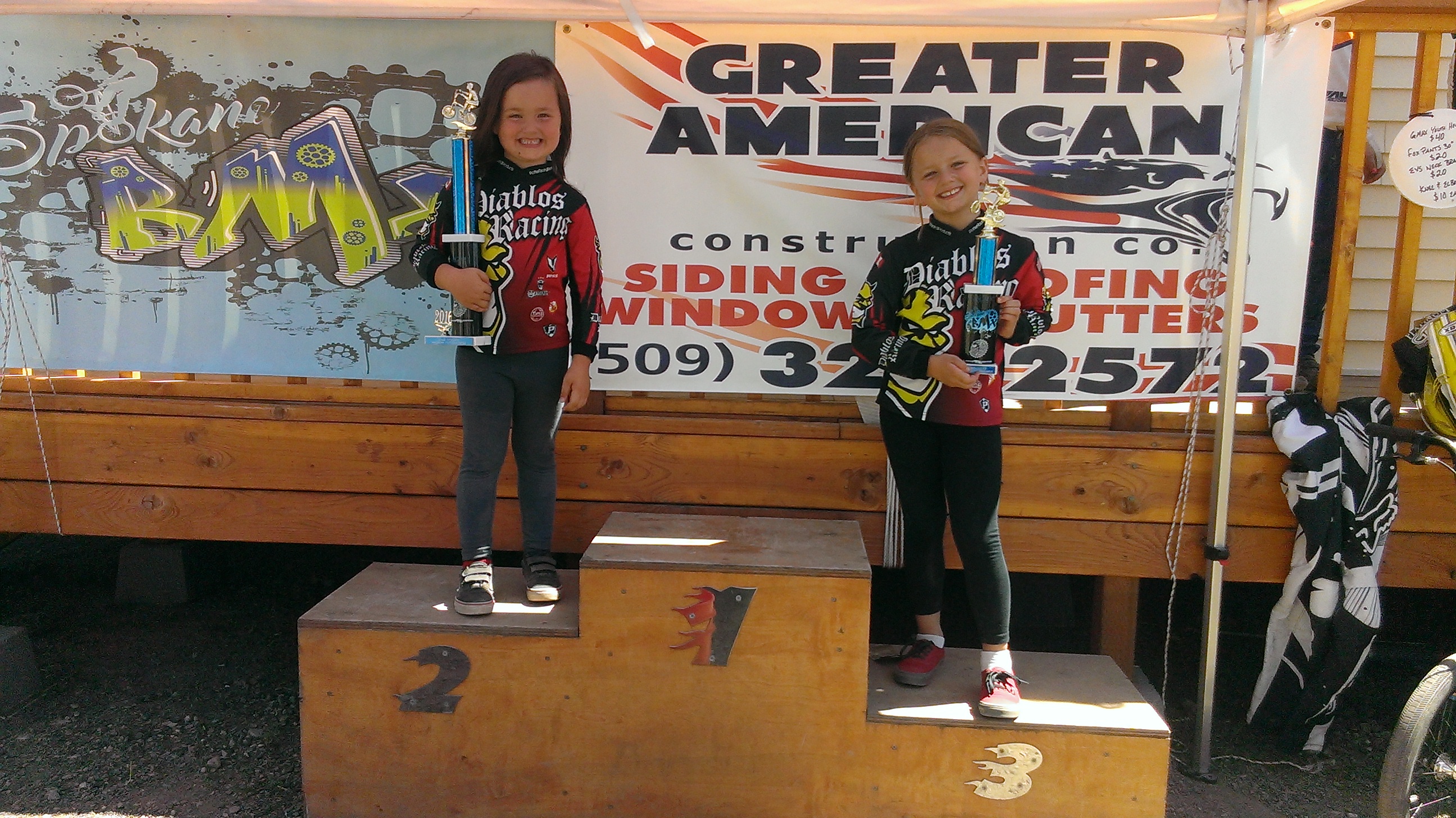 We also had another surprise visit, but this time from MY great Aunt & Uncle. They, too, had never seen the girls' race. Was such a pleasure to visit with them!
This was the last race of the trip, so after racing, we packed things up – and got headed to our next destination…
Spokane RV Resort (at Deer Park Golf Club)!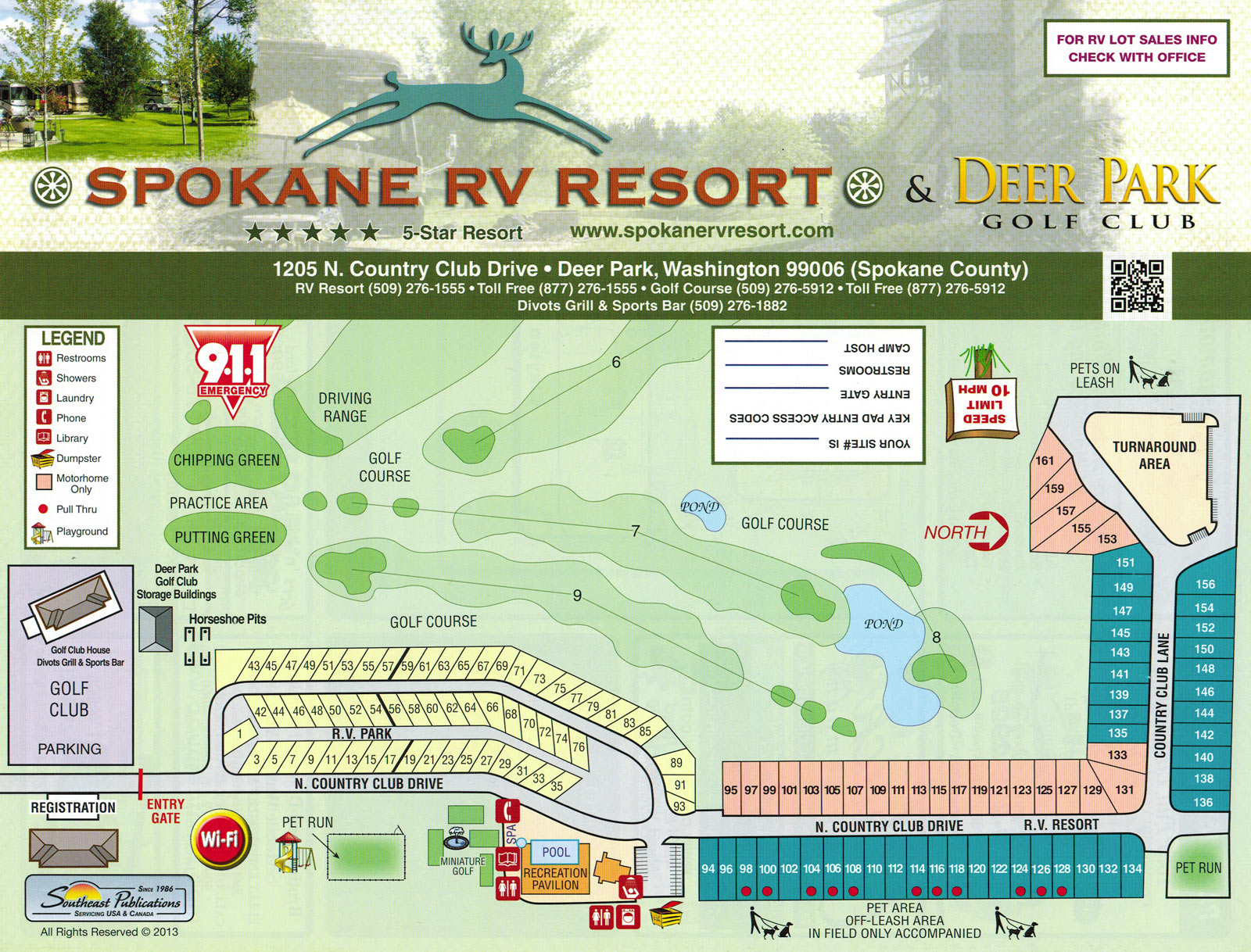 We arrived to the RV Resort on Sunday afternoon. Prior to this, I had procrastinated in making reservations for this 'R&R time' in Spokane after racing. By the time I got around to doing so, most of the 'legit' places were full/booked. Deer Park had an opening though, and was only 20mins from the track. So we booked it! Having looked over their website, and reading some reviews – I knew that this full service 'luxury' resort would work out great. They offered a pool, on-site laundry, club house, golfing, paved roads (for bikes or skateboards), playground, and restaurant – and had great views onto a beautifully landscaped golf course!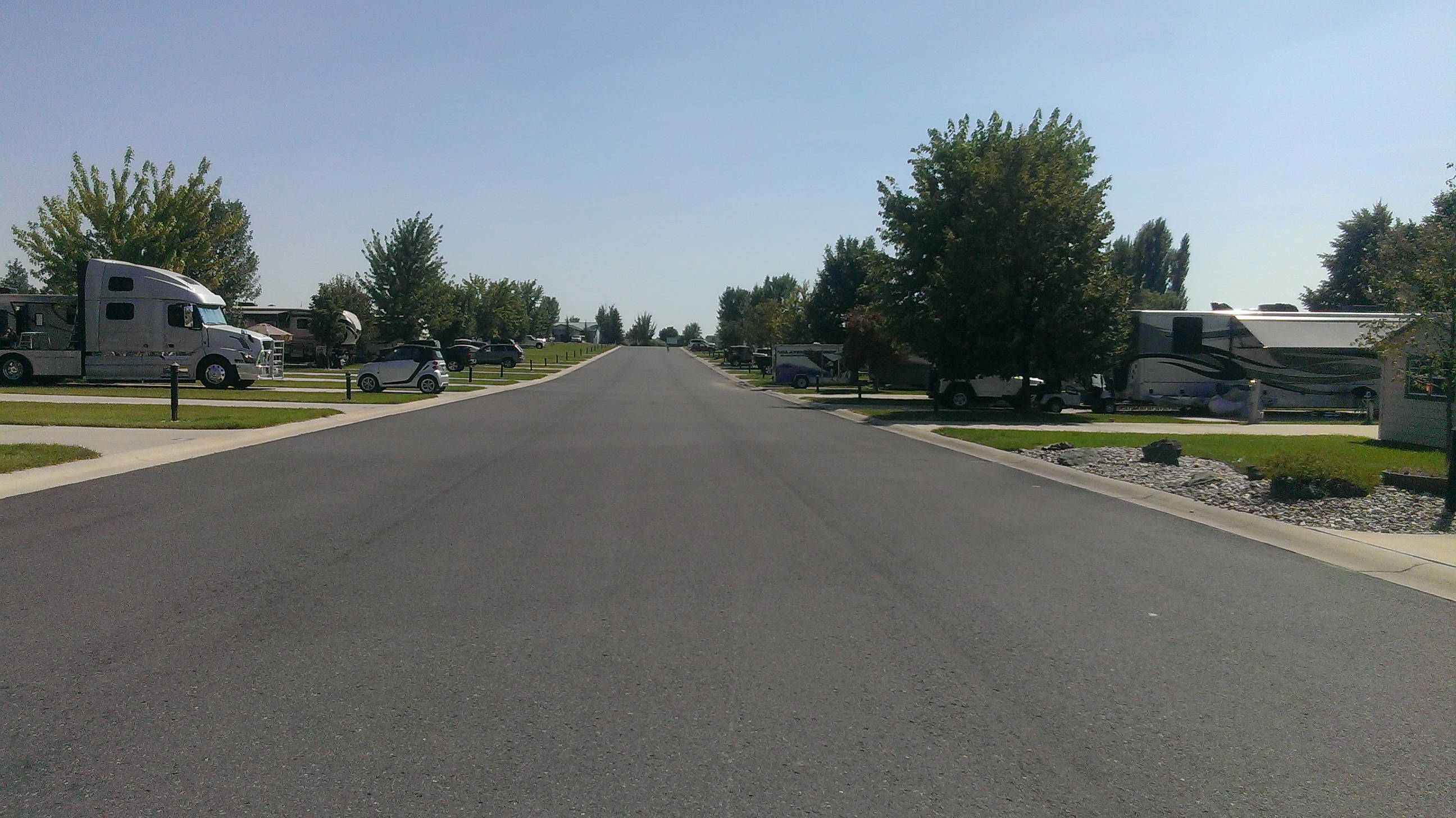 We spent two days at the resort, departing on Tuesday. We got another surprise Tuesday morning: our good friend Brett brought his son and nephew out for the girls' to play with. The four of them played kick ball, raced each other around, and had such a blast. Thank god for awesome friends!
We were on the road by noon-ish on Thursday, headed home. As soon as we jumped on I90, it was apparent that wind was going to be an issue, but we had NO IDEA how bad it was going to be. We traveled 45ish MPH almost the entire way home, being blown all over the road…sooooo scary (and I am the WORSE 'back-seat driver'). As we went through Moses Lake, you could barely see the highway as a gnarly dust storm was rolling through. As we were heading down Vantage, the high winds busted off a mount on our awning, and sent the thing flying off the side of our motorhome. We pulled over, and up behind us came gentlemen who just lost his awning too. In front of us, were another gentleman and his son that ALSO just lost their awning. How bizarre is that? Anyhow, everyone helped everyone – and within a half hour or so, we were all back on the road.
We stopped in Ellensburg to check out Webb Powersports (KTM dealer) and have dinner. By the time we left Ellensburg, the winds had died down a bit. We were able to pick up speed near Cle Elum, and booked it over the pass. Coming into North Bend, a lady about 10 cars up lost control of her car, shooting her from one side of the highway, back to the other side, and up a bank off the shoulder. Of course, that caused all 4 lanes of traffic to lock up their brakes and start swerving to avoid her…which meant us bobbing & weaving while skidding to a quick stop. We pulled over for a few minutes, as both Dan and I were shaking and still trying to take in what just happened (both girls' were sleeping through this thankfully). Dan went to check on the gal who wrecked her call, and called 911. After a short while, we jumped back on the highway and made for home. We were home by 8, showered and fed by 9, and in bed by 10 – what a crazy day of travel!
The kids and I are spending today and tomorrow getting the bus cleaned out and everything put away. Dan is back to work. Poppa Wheelie will be coming down on Friday and Saturday – as the girls' are going to be racing the combined State Qualifier and DK Gold Cup Qualifier this weekend at SeaTac BMX. Luckily, this track is only 30ish minutes from home – so we will be making a 'day trip' out of it. Following that race, we will be 'off' from BMX for 2 weeks – as we head to Chinook for our annual fishing trip with Dan's grandfather (our FAVORITE vacation of the year)!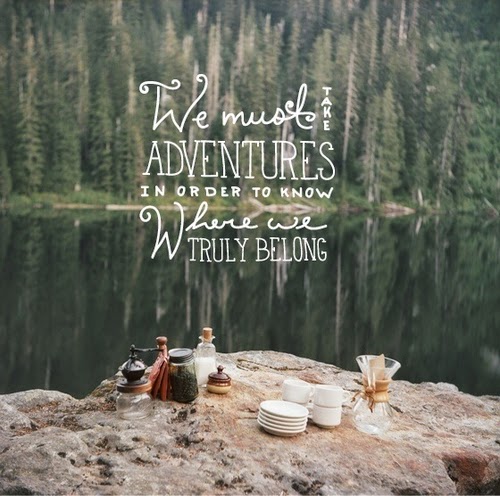 I want to take a moment to give credit, where credit is due: A HUGE THANK YOU AND KUDOS to the team out at Spokane BMX! We have been to 7 tracks here in the NW this year, and Spokane BMX was BY FAR was the BEST venue, with the BEST people, and the BEST 'program'. From the time we got there, to the time we left (4 days' worth) – there was ALWAYS someone available for questions or to help. They kept their track open to the 'public' 24/7 – meaning we could practice anytime we wanted. Registration, practice, the posting of motos (and the 5 minutes given to dispute changes), the intervals between races…EVERYTHING was always right on time (meaning no waiting around/dead time). In the 3 days of racing, not once was there a 'moto re-post' (which is next to un-heard of; they seriously had their program together). The awards/trophies for each day were all different, and well thought out…we LOVED the plaques from the SCR! The facilities were kept SO CLEAN – and had ample parking and areas for camping. The track operator (who I believe was also the announcer) was always VERY CLEAR on details (personally introduced the 'official' for the day, gave credit to each volunteer individually, and had a GREAT sense of humor). During break time, they brought out hula hoops and other toys and let the kids put on a great show; so fun! Their photographer was TOP NOTCH – best photos of the girls' yet, and they were usually posted/shared the SAME DAY! I could keep going on & on; but I am sure you get the general gist: SPOKANE BMX ROCKS! Too bad this track isn't closer to home =(. We can't wait to go back! Side note: Rumor has it, concrete corners go in this week – WOW!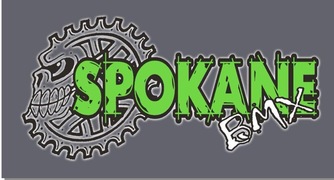 #MotoMom