What a GREAT day of racing for Team #77 Racing (and Team Diablos BMX Racing)! Today was the first time anyone was allowed on the track for the LumberJack Nationals. Practice started around 10; and racing began at 1pm sharp. Penelope's age practiced first, and she was able to get in a good 5 or so laps. Maybelline followed, with again, 5 or so laps.
Once motos were posted, we had a better idea of their competition. I would say there were over 600 riders at the track today – most gates being completely full. Penelope's class (5N) had 12 riders overall, split into 2 racks. The first and second place rider from moto #1 and moto #2 both got to advance to the main/moto #3 (consisting of 8 total riders). Maybelline's class (8N – which she has JUST moved up to since yesterday was her 8th birthday) consisted of 9 riders overall. It, also, was split into 2 racks – with the first and second place rider from moto #1 and moto #2 both getting to advance to the main/moto #3 (consisting of 8 total riders).
Penelope's moto #1 was first. She was slow out of the gate, and upon the first jump (a tabletop) – she completely mowed over a 'rider-down' and immediately took a tumble. It took her a minute or so to get up and back on the bike, but she did, and she finished 5th. Maybelline's moto shortly followed. She also struggled to get out of the gate, but held in there and finished 3rd. Since neither of them finished 1st or 2nd, they needed to try again to make it to the main.
In moto #2, (not sure exactly where Penelope ended up placing) but she didn't make it thorough to the final round. Luckily, she didn't even seem to mind. Maybelline fought hard, and took 2nd – advancing her over to the main/moto #3.
By the time the main/moto #3 came around, both kids were hot and tired. Maybelline pushed through, and ended up taking 5th overall for the day.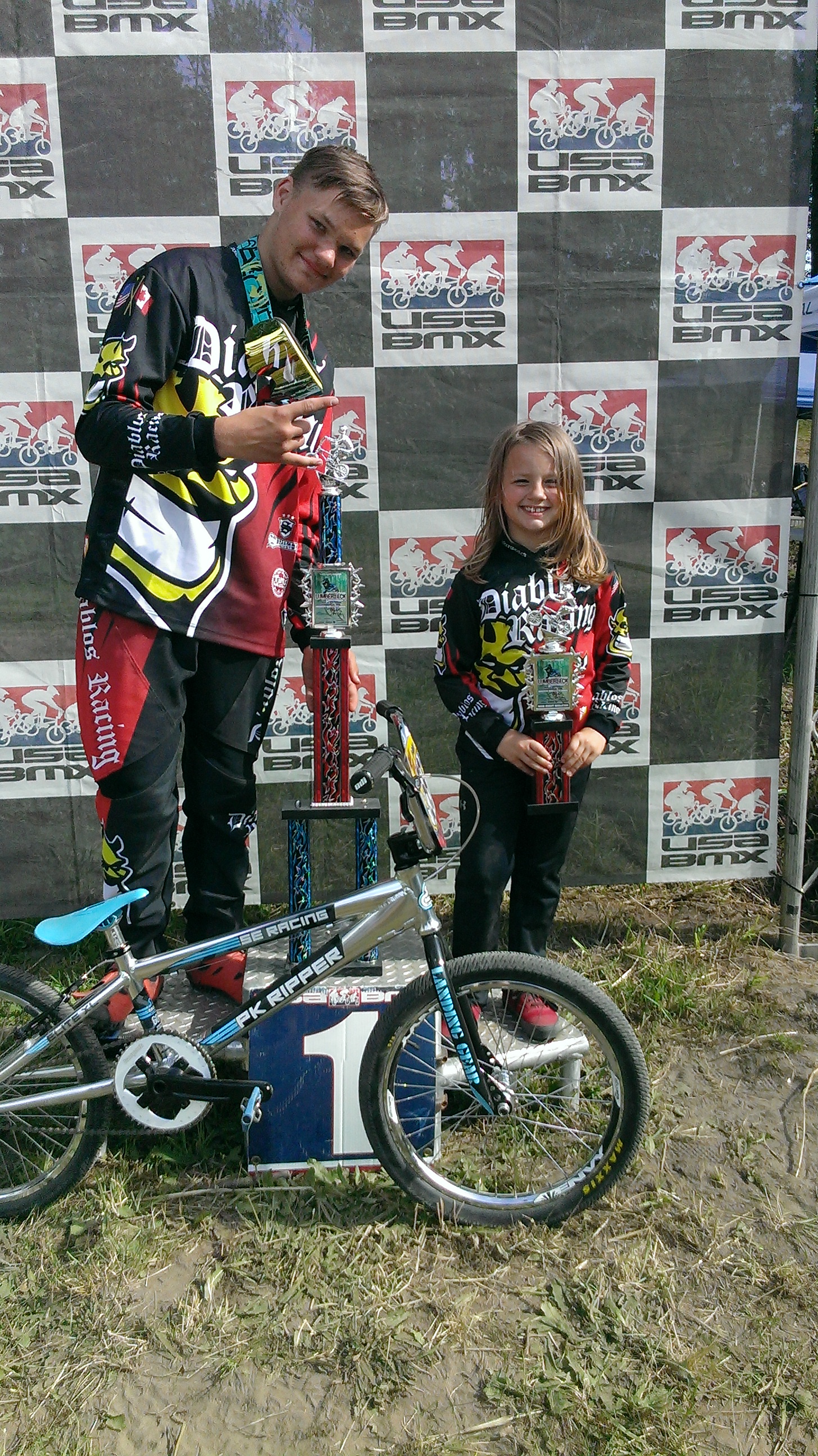 Not only am I proud of these little ladies- but our Diablos Team had some pretty significant wins today! Ty took 2nd, Megan placed 3rd, and Grace stole 1st (in ALL her motos). #WHORIDES
As far as a day of racing, we couldn't have asked for anything better (no injuries, some great wins, and a whole ton of fun). In the world of being a #MotoMom, the day had a few bumps, but we made it through. Les Schwab made it out this morning to look at the motorhome tire we blew on upon arrival; and they quickly discovered that we actually blew out TWO tires. $1,000 later – we have two new tires and are ready to roll. Combine that with the costs of 3 days of racing (at $50 per racer, per day), plus the cost of travel (food, fuel, parking, etc) – this is one VERY expensive race weekend. But I would do it again a million times over to just enjoy the smiles and excitement these girls share!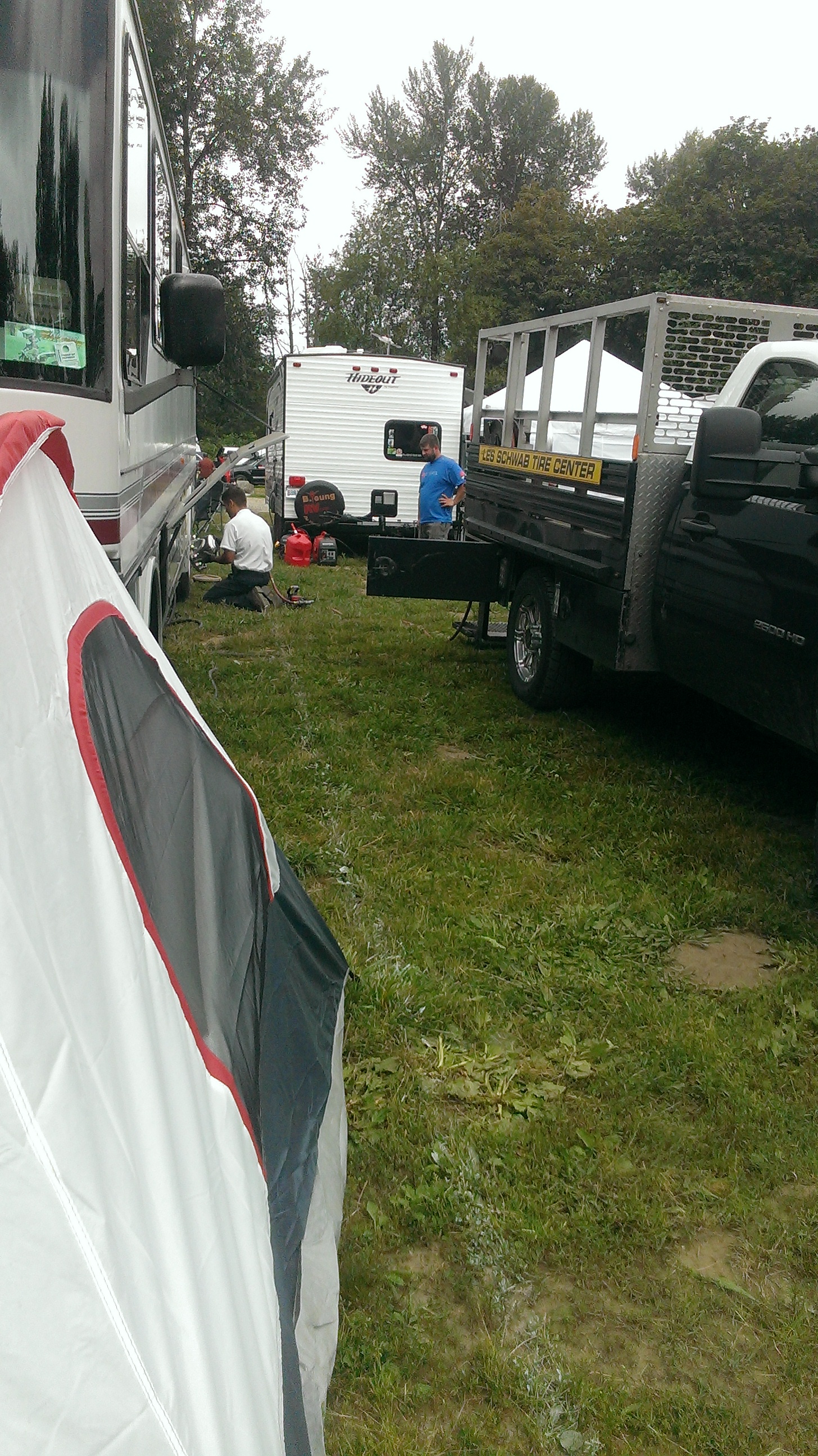 Tomorrow, it's BACK TO THE TRACK for Race Day #2 (of 3) of the LumberJack Nationals. Stay tuned for more updates from Team #77 Racing and Team Diablos BMX Racing…
#MotoMom