Now, that was a GREAT way to start off Flat Track season! Team #77 had victories across the table this past Sunday, and we couldn't be any more proud of all the kiddos!

Penelope raced her PW 50 in the beginners 50cc dirt bike class, and her LT80 quad in the beginners 90cc quad class. At the ripe age of six, this is her second year racing in both those classes. Last year, she had a tough time keeping up with the 'big kids' in both classes but held in there taking 4th overall in the series (out of 6 total qualifying riders) on her quad, and 4th overall in the series (out of 4 total qualifying riders, so last place) on her dirt bike.
Maybelline raced her new KTM 50cc Pro Senior in the advanced 50cc dirt bike class, and her LT80 quad in the beginners 90cc quad class. As we mentioned before, we were having a tough time deciding what class to put her in on her quad since she had already been in that class for two years. After consulting our fellow 'flat track veteran' family and friends, it came down to just a few things:
-In the 2 years she had previously raced this class, she only ONCE (in 18+ races) took home a 1st place trophy (and that's when #1 and #2 took each other out on the last lap and she was able to pass by the crash).
-Also, she is still riding a stock 80cc quad, vs. the 'shifter quads' that are currently running in the advanced class. The 'Myers' family (racing mates for 20+ yrs) also have similar age kids on the same quads that always proven for fun competition, so we followed suit leaving them all in the same classes again this year as we've always done in the past.
-Finally, she is 3 years YOUNGER than the maximum age requirement for the class, meaning that she is still competing with people who are both less and more advanced than her.
Obviously, if she takes a podium finish in this class this year, we plan to buy her a bigger bike and move her up next year. As far as her dirt bike went, the 'big bikes' (KTM's and Cobra's) stepped up into the advanced class so Maybelline did too! With only a few short sessions of seat time on the new bike, we were not sure what to expect.
This year, we also added another new member to the Team #77 Racing Team! Our dear friend Makayla and her daughter, Addy (age 5) came out for Sunday RACE-DAY. Addy is using one of the girls' old LT50 quads, and is racing the beginners 70cc quad class.
Another long-time 'flat track veteran' friend brought out his son, Bro, to also race in the beginners 50cc dirt bike class. It was sooooo fun to have him and Penelope in the same races (flashback to circa '94…and that was us, now parents, racing each other). We are hoping that Bro will return in the near future to race quads with the girls' as well!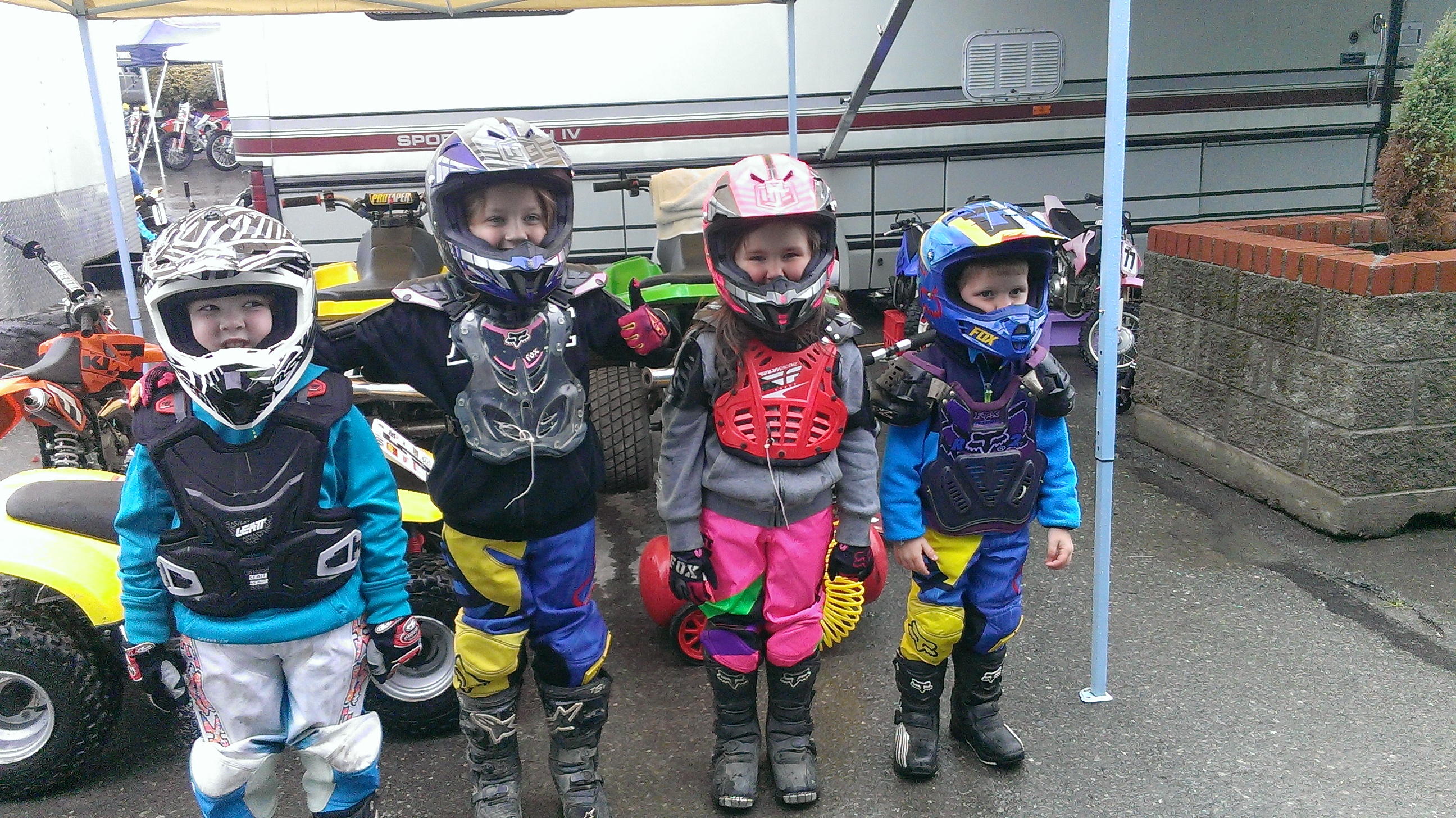 With a line-up of 4 kids, totaling 6 bikes/quads (and all races running back-to-back pretty much), it sure led to an eventful day for Team #77 Racing!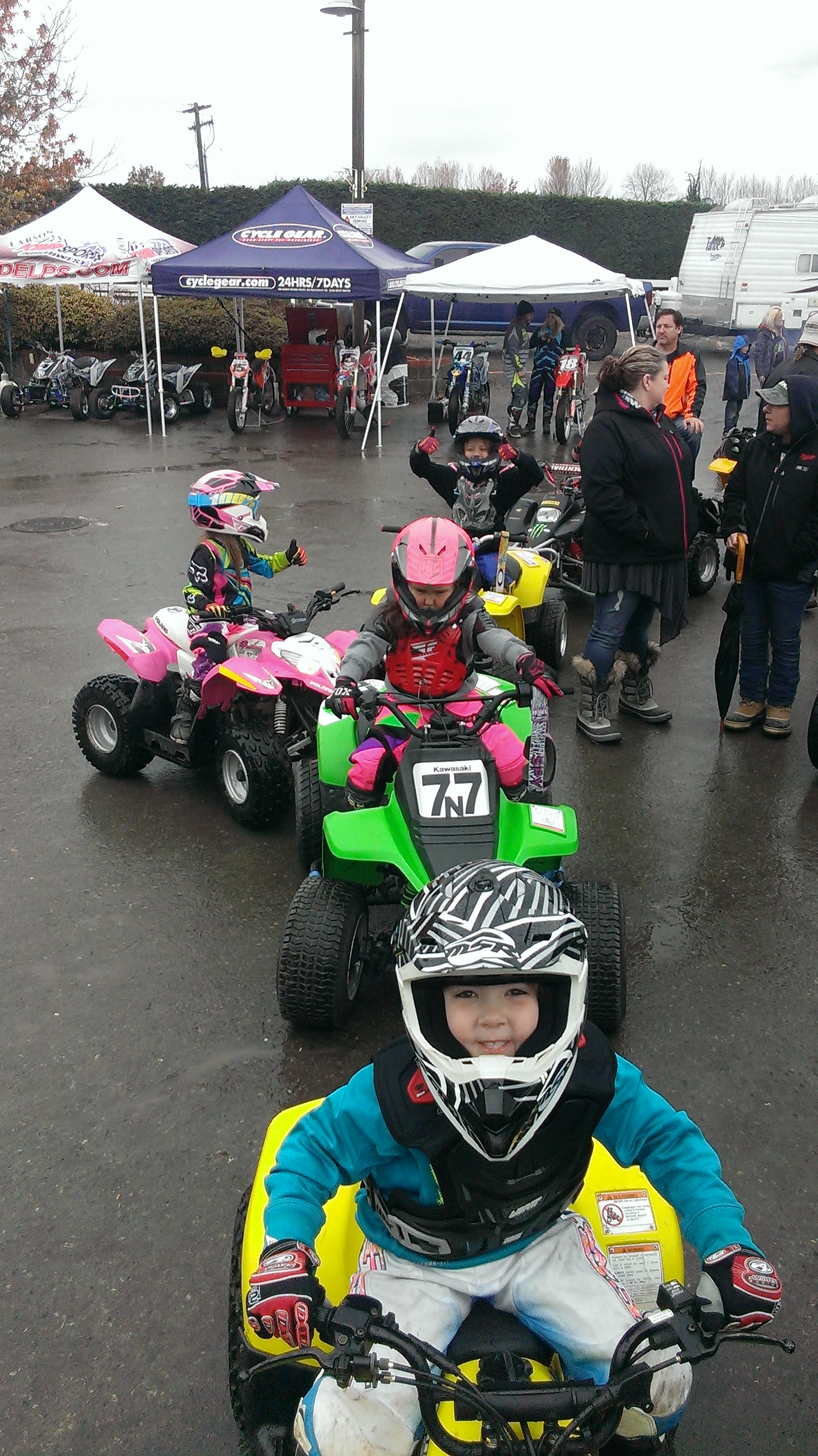 Nelly and Bro battled it out on their PW 50 dirt bikes (back and forth between #1 and #2 probably 5 times during the race) – with Nelly taking 1st across the finish line during the heat race. The main had seven dirt bikes total, Nelly taking 1st, and Bro at 3rd (but less than a bikes length from swiping 2nd). I think both of them are probably still sleeping with their trophies at night ;-).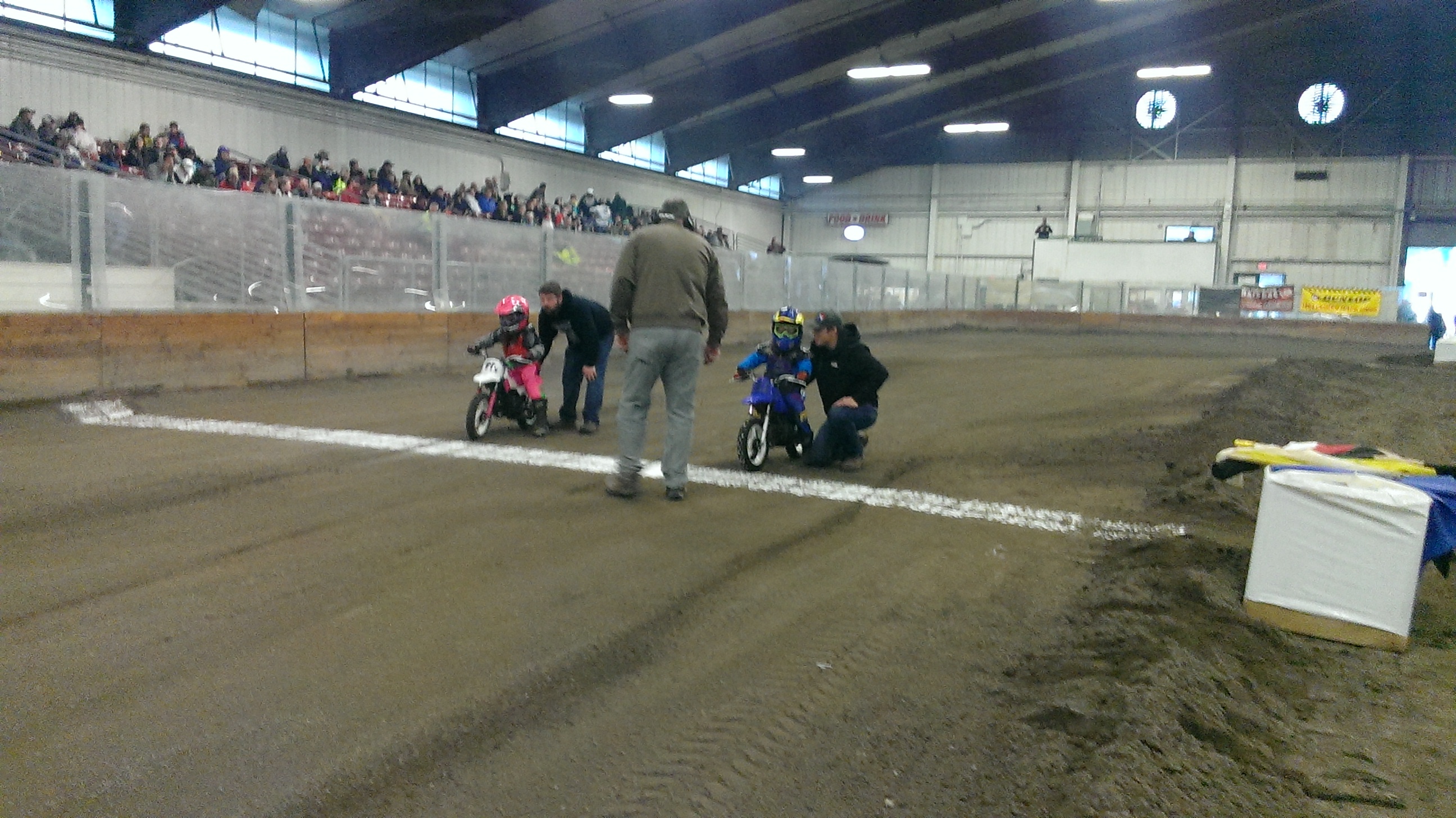 Next race was Maybelline on her dirt bike! Just her (on her KTM) and another little girl (on a Cobra), both new to the bikes and class this year, hit the track. May blew up her clutch right out of staging, but made it through both the heat and main, taking 2nd place overall.
Addy was up next! For her first time ever on the track, she did GREAT! There were 2 quads in her class that did not belong in there (it was a 70cc and less beginners class, and there was a DDR 90 and a 110 both in it) that made it an even tougher race for her. Either way, she swooped up 5th in the heat race, and finished 2nd in the main…INCREDIBLE!
Next up was May and Nelly in the quad class! With 9 total riders in the class, both girls had to fight hard to keep their places. May took 1st in both the heat and main, and Nelly took 4th in both as well! SO PROUD OF THEM ❤❤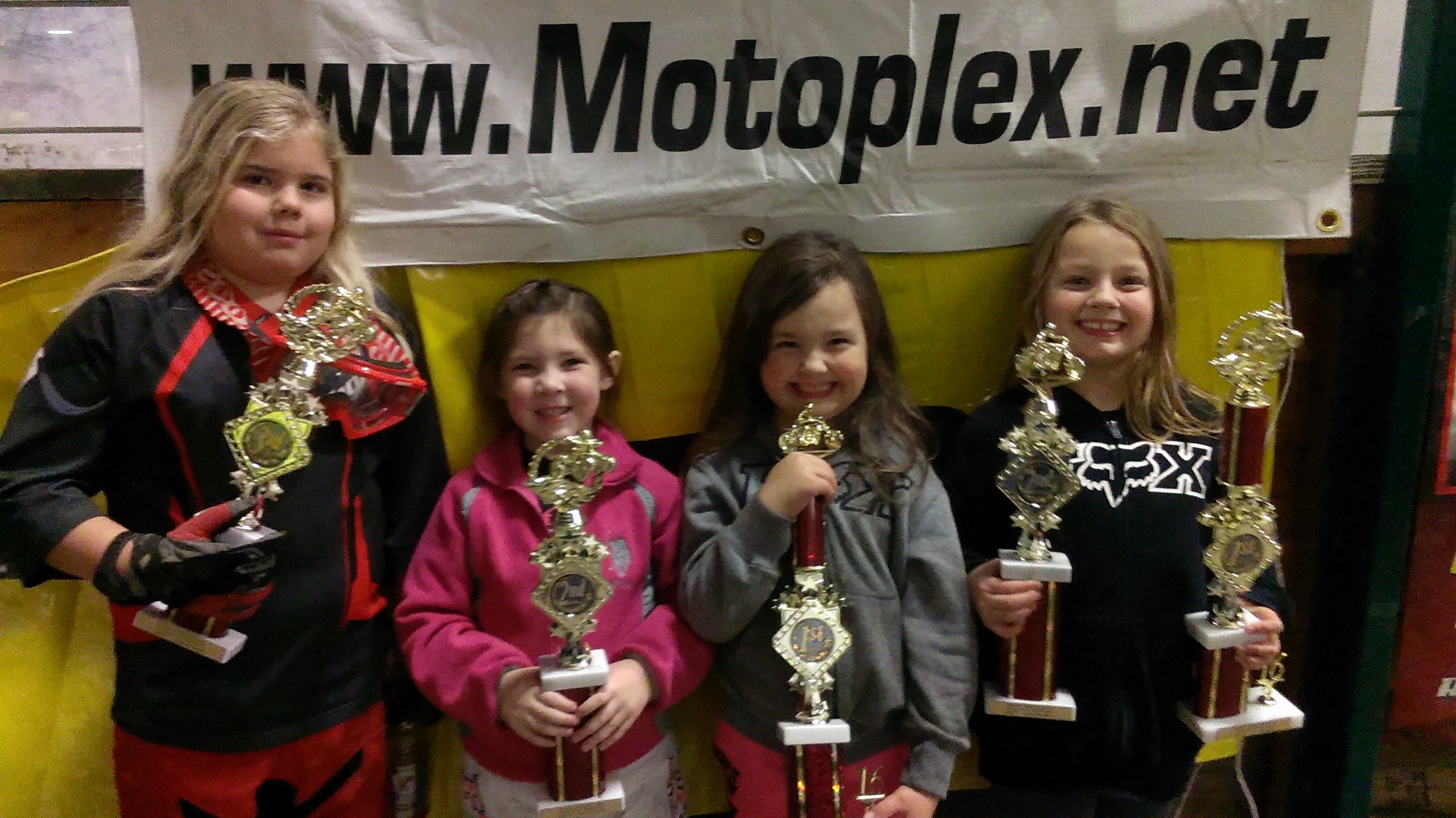 We got out of the track by 5:30ish on Sunday, and headed home with a bus full of happy kids and a bundle of trophies! With 26 winters spent at that track for Flat Track Racing…these sure are the nights and moments we live for…GO TEAM #77 RACING!
{{Up next: Indoor BMX Racing             THIS WEEKEND}}
#MotoMom